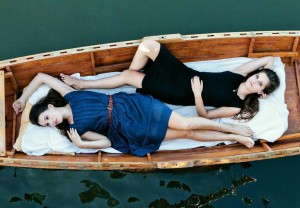 Indianapolis sisters Lily and Madeleine have revealed their beautifully eerie video for new single The Wolf Is Free. The new song is from the sister's sophomore album Fumes which will be released October 27th on Asthmatic Kitty Records and is now available to pre-order. iTunes, CD/LP
You can see the video below:
Ahead of the release, Lily & Madeleine will be in the UK to play End of the Road festival on Saturday 30th August.
Produced once again by Paul Mahern, the 10-track album was recorded in Bloomington, Indiana and was written by the sisters and long-time collaborator Kenny Childers (Gentleman Caller). Of the project, Madeleine comments,
"Fumes is a new step for us as artists. It shows our transformation as musicians and as women, and was inspired by our experience on the road as well as the life experiences of people close to us. Dedicating more time and working with new artists in the studio allowed us to better create the sound we wanted. It's a perfect reflection of this stage of our lives."