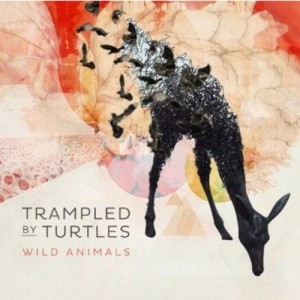 It's safe to say that there is nothing like some fresh-cut bluegrass. You might as well consider Trampled by Turtles a lawnmower then because they provide nothing short of that.
Lame puns aside, Wild Animals shows an incredibly different and vulnerable side of the band. This album really highlights the bands versatility and shows a unique take on an old genre. The record is great for those that have been long time fans of the band, but also for those weary of the "twang" that can sometimes deter people from getting into bluegrass.
Going into the album expecting a similar vibe and feel to their recent albums, the opening song and title track really throws the listener for a loop. There very similar instrumentation to their other albums (violin, banjo, bass, no drums, mandolin etc) but it is incredibly eerie, dark, hollow and ethereal. There are haunting harmonies layered beneath a reverb heavy lead vocal melody. The song builds beautifully and is incredibly powerful.
As previously mentioned, this record shows a different side, but 'Come Back Home' and 'Western' are reminiscent of the Trampled by Turtles we all fell in love with. They are fast, banjo pickin', guitar strummin', step-bass, songs.
Although all the songs are incredibly beautiful in their own way, 'Lucy' is a major standout. It is slow, eerie, and features a thick bass underneath. It is sparse and spacey, but absolutely gorgeous. A fantastic love song sung by Simonette.
Wild Animals shows a lovely new side from a band that has put out so many amazing bluegrass albums. Even if you are not a fan of bluegrass, this album is a definite must-check-out, as there are tons of elements of straight folk present.
Words: Drew Zieff