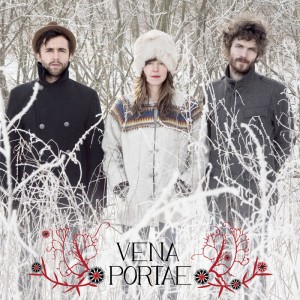 Emily Barker's latest project, Vena Portae, emerged from recording sessions in the winter months of 2012 in Sweden; the delay between recording and release the result of each members on-going musical commitments.  Where Barker's voice would usually be accompanied by the harmonising voices of the Red Clay Halo, here, it is supported by the equally able talents of British producer Dom Coyote and Swedish multi-instrumentalist Ruben Engzell.
Those aware of Emily Barker will know that at her core, she sings folk songs with a modern twist, and this winning formula, perfected in her past three albums with the Red Clay Halo, is utilised here to the same effect.  This side project sees Barker step back slightly from sole vocal duties, with Coyote and Engzell being given space to showcase their own abilities. On both 'Solitary Wives' and 'Turning Key', Barker provides subtle backing vocals to her fellow band members. On the latter, her voice barely rises above a whisper, ensuring that the emphasis is on Coyote's strong vocals, creating a song which seems destined to soundtrack one of those Swedish crime dramas.  Vena Portae isn't just Emily Barker and Friends – it is a true collaboration between three artists who do what good artists do best – create and record a set of great songs.
There is an ample amount of variety between the 11 tracks here, varying from the melancholy of 'Translatlantic' (a cover version of Swedish song-writer Christian Kjellvander's track) to the country leanings of 'Flames and Fury', which itself leads into the folk-led tale of the 'Magpie's Carol'.  The diversity here showcases the collective talents of Barker, Coyote and Engzell, and ensures that Vena Portae is more than the sum of its part suggests.  As the summer comes to an end, this record is ideal to soundtrack the forthcoming autumnal nights.