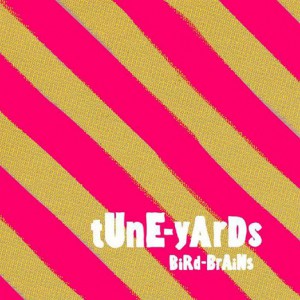 There's a lovely moment at the start of BiRd-BrAiNs when Merrill Garbus and a child, possibly her son, discuss the merits of blueberries. They're "fresh", they conclude. So is this album, given a deserved UK release by the rejuvenated 4AD label, after being self-released last year.
Recorded entirely at home in Montreal with just a digital voice recorder, this is no sonic masterpiece. But it is heartfelt and varied, veering from simply strummed tracks on preferred lo-fi weapon of choice, the uke, to full-on blasts of primitive tribal beats and bass – check 'Hitari' for evidence.
Lyrically, it's a roughly 50/50 split between devotion and despair. "I'll never leave you alone… my heart will beat against yours, making sure we never turn into stone" she sings on opening track 'For You', perhaps dedicating the album, and herself, to the young child.
But on 'News' Merrill is in no mood for sentimentality:  "I've got news for you honey, I'm not going to stick around here anymore if you treat me badly." And then, to make things even clearer: "I don't need anything to get it up in the morning… I can get pregnant with birds who sing prettier than you."
On the rousing 'Fiya' she asks a lover: "Don't you know I breath in fire, breathe out fire?", accompanied by some great playing.
Musically, there is contrast too. When not plaintively strumming and picking tunes out, there is plenty else going on. 'News' throws in all manner of found sounds, while 'Sunlight' features raw Scout Niblett style drumming, but there's a funkiness that Scout generally lacks. 'Safety' adds what sounds like finger cymbals to a lovely looped uke, and is a little reminiscent of Kimya Dawson – were she to use more instruments.
'Hitari' is another high point – accomplished and funky as hell, powered along by a booming bass drum and sounding a bit like MIA if she had recorded around a campfire in North America. Except you have to wonder if MIA would ever use a coughing sound as part of her rhythm track, as tUnE-YaRdS does on 'Jamaican'.
'Jumping Jack' carries an almost digital dancehall style bass line, and the neat refrain "Jumping Jack, Jumping Jack, tell me why are you so whack?"
Although undeniably lo-fi throughout, 'Little Tiger' is the only track that is genuinely hard work. Devoid of a tune, it outstays its welcome just a little.
Closer 'Real Live Flesh' is perhaps Merrill's most vocally adventurous song, with her voice looped along with everything else. And what an unusual voice it is, capable of sounding immensely vulnerably one moment, an intimidating yodel the next.
Like the album, it can be a little unsettling at times but, if you like your music experimental and adventurous, you should own this. It's a no-brainer.
Words: Joe Downie