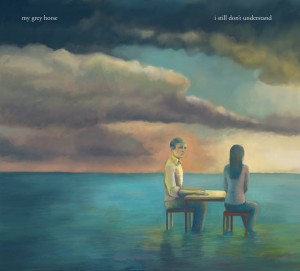 We first heard of My Grey Horse nearly four years ago, when the gentle nature sound effects that introduce their song 'You'll Never Learn' circulated online. Followed up by the more mainstream – but no less brilliant – 'Waste of Air', it seemed like My Grey Horse were on the cusp of something great. Then, as subtly as they first made a home in my head, they seemingly disappeared.
But now, in is what is literally music to my ears, the Stratford five-piece are back, their quirky debut released spruced up and audibly at home nestled amongst My Grey Horse's newer, polished pop efforts. From twangs of banjo, clean, bright electric guitars, to the doo-wop backing vocals heard on several tracks, such as 'Fortunate' and the aforementioned wildlife, still present on 'You'll Never Learn', this is a vibrant, eclectic collection of folk pop that only improves on repeated listens.
There's been comparisons to the mighty American behemoth of left field pop, The Shins, but My Grey Horse are lyrically more accessible – and, with future releases, have the potential to create the breadth of sound to match. For now, this is an exciting start to what could be a very successful year.
Words: Frankie Ward