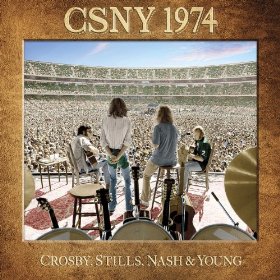 In the 40 years since America's all-time favourite supergroup embarked on a massive stadium tour all four members have led us to a perception which at face value makes this vast compendium – available in one-disc, four-disc, and uber-box-set form – rather puzzling.
Dave Crosby, Stephen Stills, Graham Nash and Neil Young have all expressed their discontent at not just their behaviour on tour – some of the decadence would have put Led Zeppelin to shame – but the quality of the music they played.
Too much cocaine, harmonies that were all over the shop, everyone's guitars tuned too sharp. According to the four men who made this music, it sucked. But it didn't.
Joel Bernstein, dedicated archivist of most things Young-based, helped to pull this set together and he has done a magnificent job, although it is disappointing to hear some of these versions have been melded together from two or three different shows.
From the lithe opener 'Love the One You're With' the musicianship is of the highest quality. The two mainly electric discs are particularly phenomenal.
The version of 'Ohio' may be the best ever committed to take with its unhinged venom and the context of the performance coming just a day before Richard Nixon's resignation.
For the most part, Young and Stills are the stars. The battle of lead guitar brinkmanship between the pair at once exhilarating and, by the close, almost exhausting in its intensity.
This collection also serves as a timely reminder of Crosby's soaring voice, prior to the addictions which have left him almost a caricature of his former glories. 'Déjà vu' and 'Almost Cut My Hair' are glorious.
Even Nash's 'Our House' – you know, the one with cats in the yard which everyone thinks is a Beatles track – sounds wonderful in this setting. If that doesn't perfectly outline just how good 1974 is, maybe nothing will.
Ultimately, Young is the star here. Whether it be unreleased gems such as 'Pushed It Over the End' or the ferocity of 'Revolution Blues' and 'On the Beach' or an aching take on 'Helpless', his work takes centre stage.
But it will undoubtedly have served as a reminder to all four members that despite the drugs, the post-tour split and their less than fond memories of this jaunt, they still produced music of stunning quality.
Words: Andrew Gwilym