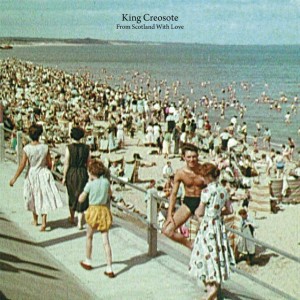 King Creosote's love letter to Scotland could not have come at a better time with the eyes of the world turning north for the Commonwealth Games and the upcoming independence referendum. But don't expect a collection of rousing anthems – that is not King Creosote's way. This is instead a more sentimental view of Scotland, rather than looking at some potentially big moments to come.
Either way, King Creosote's passion for his homeland comes through in spades as he wades through Scotland's rich history. Songs such as 'Miserable Strangers' tackle emigration with tales which could hark all the way back to the Highland clearances and Paupers Dough talks of protest which is something Scotland has been particularly good at over the years. To echo the numbers of protesters a full choir sings "rise above the gutter you are inside". 'Bluebell Cockleshell 123' sounds like a children's happy-clappy song but a closer listen reveals that in amongst the young voices is the story of a funeral.
King Creosote is nothing if not prolific and has released over 40 albums in his career. This one was made to be a soundtrack to a Commonwealth Games documentary but has turned out to be so much more. It is a diverse record, straying from bare accordians to rich orchestration, but never straying too far from the heartfelt lyrics and beautiful melodies that King Creosote is best known for.
Words: Eala MacAlister