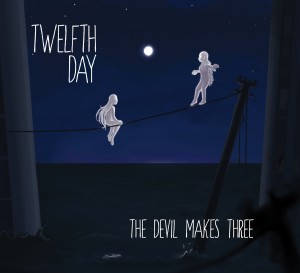 You could be forgiven for not believing that this is only their second full studio album, as Twelfth Day not only sound much more accomplished in their brand of innovative modern, yet traditionally-infused, folk, but because they have already released acclaimed collaboration albums and EPs, which have taken the girls far from their Scottish homes.
From the opening, harmonised acapella lines about this 'quiet earth', the charming Twelfth Day show us their siren-like qualities with 'Noise Show', an opener filled with enough scraping violin and piercing plucks to make you scarcely remember what a quiet earth could be.
The bouncing, skipping quality of their violin-dominated music, like Johnny Flynn with a spring in his step, provides the perfect counterpart to their harmonies. Their voices are at once soft and strong, and each song is performed with such intricate knowledge of their talent that it is no wonder they have the power to make these stormy songs wash over you like warm breeze. With only a couple that drop below the four-minute mark, each track is given a wealth of due care and attention, allowing The Devil Makes Three to feel like an anthology of old lore. And it is in their traditional, but earnest, charm, that they are able to make this feel like a very relevant collection, and one that showcases what is so endearing about modern folk music.
Their talent really lies in their ability to capture and take full advantage of the emotion behind a song. 'Young Sir' tells the tale of a young woman leaving her troubles behind and making for the border with her young sir, and the great giddy power of their uplifting music, full of joy and optimism, is enough to make you feel like you should up, leave and find the love of your life as well.
Songs such as 'Shapeshifter' and 'Magic Circles' are filled with such calming and vivid images of beauty, and they are balanced by the immediate reply of 'The Devil Makes Three', a rather haunting tale of abandonment and resilience. The eponymous track splits its six minutes between this tale and the rhapsody of violin at its conclusion, which best shows the fine balance of emotion that the girls are able to play with throughout the whole album.
The Devil Makes Three is an album full of charming stories and upbeat rhythms that is authentic enough to rival any folk album, and filled with enough character to restore your faith in the traditional revival.
Words: Josh King