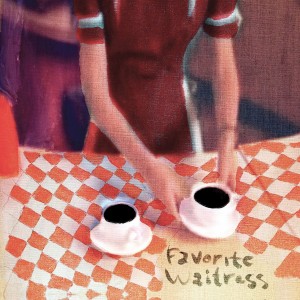 Sometimes the more things appear to be changing, the more they stay the same.
This latest release from beloved scrappy New York veterans The Felice Brothers had the potential to throw up masses of intrigue given their recent history.
Firstly, it is their first full-length record entirely without founding member Simone Felice (even if his backing vocals on their last record didn't make for the largest contribution imaginable), who is already marking himself out as a gifted solo artist.
Secondly, it is their first record laid down at a 'proper' recording studio, as opposed to chicken coops, barns or any other number of weird and wonderful venues.
Finally, it came on the heels of an album 2012's Celebration, Florida, which had hinted at subtle changes from their shambolic yet captivating take on Dylan & The Band-esque country rock, complete with electro beats and hip-hop rhythms.
But none of these changes appears to have had any impact on Favourite Waitress which is unmistakably the work of The Felice Brothers, not, I hasten to add, that that is a bad thing.
The superb opener 'Bird on Broken Wing', dedicated to the late Pete Seeger, starts, amusingly enough, with a dog barking as the first few bars ring out.
It's enough to make you think we're back in the barn and serves as indication that no matter what the budget, or the equipment, these guys just sound great in each other's company.
All the hallmarks are there. Ian Felice's world-weary vocals, the woozy harmonies, loose but beguiling instrumentation.
'Cherry Licorice' sums up the band's appeal in microcosm. The lyrics are all over the shop, the rhythm almost falling apart, yet the melody lodges itself in your brain and circulates with no intention of leaving. It is almost a later-day 'Frankie's Gun!'.
'Hawthorne' is a work of beauty at the heart of the record, while 'Woman Next Door' is immediate and messy with an insistent chorus and fuzzy razor-wire thin guitar buzzing away in the background.
'Alien' and 'Chinatown feel almost widescreen by comparison, but there's no denying the heart of this album comes from the intimacy of the spirited playing and harmonies.
Above all this sounds like it was every bit as much fun to make as it is to listen too. You cannot ask for much more.
It probably won't be enough win over any naysayers, but it will do nicely for those who are already believers.
Words: Andrew Gwilym