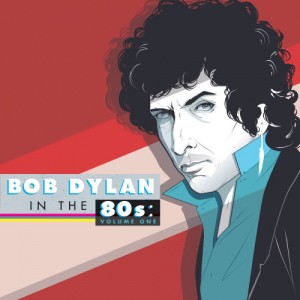 Bob Dylan's life in the 1980s was one full of as much mystery and confusion as the previous two decades had been of breakthrough, success and inspiration. Starting that period of time as a born-again Christian before peppering the years with albums of varying degrees of success from the popular Infidels (1983) through to the not so well received Down in the Groove (1988). There were times of recluse, times of collaboration (singing on the USA for Africa's charity single 'We Are The World' in 1985 and touring with Tom Petty and The Heartbreakers and The Grateful Dead) and finally a time of hope that the treasured star was 'back' when 1989 album Oh Mercy charted in at number six in the UK charts and number 30 in the US Billboard charts.
The release of Bob Dylan in the 80s: Volume One presents us with a fine selection of cover versions by contemporary artists clearly influenced by the man himself and the collection should work well to bring the songs back to life to old and new audiences alike and to paint a bigger picture of an era where Dylan could be difficult to comprehend.
Infidels features early on with Idaho-based Built To Spill taking on 'Jokerman' in their typical dreamy yet accessible manner and The Hold Steady's Craig Finn easing through 'Sweetheart Like You' with Dylan-esque vocals. Sandwiched in between is a wonderfully soulful and authority stamped on version of 'Brownsville Girl' from Reggie Watts that sets the bar mightily high for the rest of the album.
Ivan and Alyosha give 'You Changed My Life' a cheery folk-pop update whilst, later on, Glen Hansard makes 'Pressing On' sound like it could have been plucked from his own back catalogue and Carl Broemel steps out from a more subtle stance as a member of Kentucky band My Morning Jacket to deliver closing track 'Death Is Not The End'.
The various artists that make up this gathering of songs from an arguably misunderstood era of one of the all-time great musicians flitter between going all out to make their own mark on the songs to keeping it simple and as close to the original as possible. One consistent theme runs throughout, though, and that's the huge impact Bob Dylan still has on so many.
That, in itself, is a reason to celebrate and the title of the album teases that this may not be the last we hear from Bob Dylan in the 80s. We sincerely hope that hunch rings true.
Words: Danny Brothers