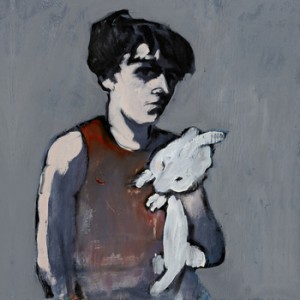 Otherworldly SixToes return with a beautifully cut-back, matured album. The first thing that struck me about this record was how much SixToes have developed in terms of sound since 2008's Trick of the Night. To be honest, at first I was hoping for Trick of the Night II. For me, the band epitomise a contemporary approach to the more traditional chamber-folk sound. The thickly textured instrumentation and vocal harmonies in the first album hypnotised me and I leaned towards wanting to hear an identical sound. However, the more I listen to The Morning After, the more pleased I am with it – it sounds refined, sleekly cut back yet still unmistakably SixToes.
'The Welcoming' is very much characteristic of this sound: A simple accordion loop with basic percussion and harmonising vocals from Greenap and Rogers. It's a brave new approach that might have alienated some of the older fans if it wasn't so brilliant. 'Pedestal' follows suit with simple strings and a memorable chorus. SixToes haven't lost anything with this new approach, but have gained new sensitivity, style and romance.
'Intro' and 'Russian Song' lull you gently into this new sound and are more reminiscent of previous works, with juddering strings and monastic vocal harmonies. Last year's 'Low Guns' features too and aids in this comfortable transition. The lingering 'Zen Box' sits comfortably somewhere in the middle with a variety of instruments playing their parts without the thick layering of previous works. The harmonies and extensive variety of instruments are still present in The Morning After, but it seems like they've taken a step back to provide a presence for the soothing, distinctive vocals prominent on the album.
SixToes are known for being incredibly proficient in their knowledge and experience of song writing and instrumentation – writing, recording and producing much of their music themselves – this could explain why their sound is so utterly unique. SixToes have remixed songs for Depeche Mode, Nick Cave and my personal favourite, covered Low's 'Murderer'. They've produced this latest album themselves and this level of independence has really filtered into their sound. They're artists in the truest sense and it really shows in The Morning After. Worth repeated listens.
Words: Joseph Merriman