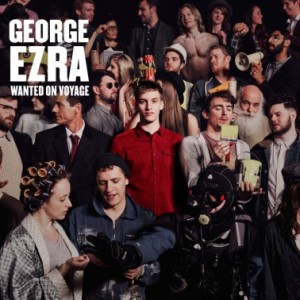 It's hard to believe that George Ezra has only just celebrated his 21st birthday. Possessing a voice which sounds as if it has lived through a lifetime of whisky and cigarettes, Ezra's gravelly intonation is perhaps his greatest strength; in many ways, it is his USP in a market saturated with ambitious singer-songwriters. Rather than confine himself to singing folk songs over a delicately strummed acoustic guitar, Ezra has enlisted a band which adds some soul to his youthful tales of travelling, meeting girls and drinking; all staple events of the average twenty-something. His enthusiasm and ear for a catchy melody is what sets him apart from his peers, and both combine to make Wanted on Voyage a very promising debut album.
It has been well documented that Ezra wrote many of these songs whilst backpacking solo across Europe last summer – hence the tracks referencing Barcelona and Budapest – and as a result the album has a sense of restlessness about it; almost a continuous movement, as if echoing the countless miles travelled across the European continent. This is evident especially so on the album's stand out moment, the bluesy foot stompin' 'Did you hear the Rain?', beginning with Ezra's voice howling "why do you treat me so" before being accompanied by a rhythm section which is suitably versed in delivering an authentic realisation of the traditional blues. Yet, just two tracks later, Ezra has changed tack and delivers a song which is emphatically catchy and upbeat in 'Stand by Your Gun', before transitioning himself shortly after as a balladeer in 'Breakaway', resplendent with a gospel choir.
Ezra stands out because of his ability to carry off these multiple styles without making the record feel disjointed. It is a remarkable achievement, and it gives Ezra various platforms to move towards in records to come. Wanted on Voyage will sell due to the outstanding success of 'Budapest', one of 2014's best singles, yet the track is somewhat of a red herring, as it is one of the weakest songs of the record. This is testament to Ezra's belief in the record as a whole, and will surprise those expecting 11 different variations of 'Budapest'. Chart success and critical acclaim awaits for this young man, and Wanted on Voyage will give George Ezra solid foundations to build a successful career around. Expect Ezra to be around a very long time to come.
Words: Joe Sweeting