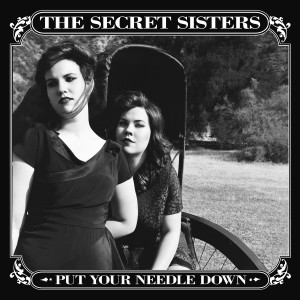 Three years ago, the Secret Sisters arrived with their thoroughly charming self-titled debut. Putting their blood harmonies to devastating effect, they whistled through an array of country standards while offering only two of their own compositions. The fact that one of those, 'Tennessee Me', was comfortably among the best things on the record at least suggested there was more to come, and now follow-up record Put Your Needle Down has come along to prove it.
"T Bone" Burnett is once again behind the controls and brews up the perfect atmosphere for their deep, rich sound, while adding a few more modern twists to the 1940s stylings of its predecessor (and by modern, we mean, you know, maybe the 1960s). But the major progression comes as the sisters, buoyed by the success of their debut, gain the confidence to unleash a whole array of originals, many of them written with another of "T Bone"'s favourites, Brandi Carlile. Covers still feature strongly, with a back-dated take on PJ Harvey's 'Pocket Knife' providing the lyric which gave the album its name, as well as 'Lonely Island', made famous by the Everly Brothers.
But the strength of this record comes from the originals, from the haunting 'Iuka' to the swinging 'Black and Blue', which is probably what it would sound like if they tried covering She & Him. At the centre of all this is 'Dirty Lie', a 'lost' Bob Dylan song which only ever appeared in demo form. The sisters, given permission to finish the song, turn it into a swampy jazz number and one of the standouts from this collection.
It illustrates their move away from the straight country sound of before to something more daring, and ultimately something more accomplished. For all the wonders of their debut record, it might easily have been the sound of a band stuck in the past. Put Your Needle Down shows they have no intention of being tied down.