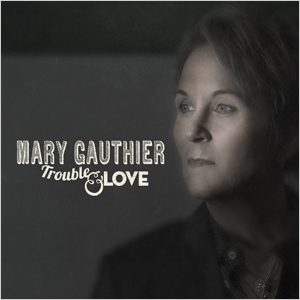 The term "break-up album" has been bandied around a lot recently. Coldplay's Ghost Stories was teed up as the record to spill the beans on Chris Martin's uncoupling, conscious or otherwise, from Gwyneth Paltrow, while Jack White and Dan Auerbach of The Black Keys are also said to have channelled hurt from their divorces into their most recent work. This album by New-Orleans born singer-songwriter Gauthier is not a break-up record as such, but for an earnest and honest appraisal of the torrid nature of love going wrong you will not find a better piece of work for some time. It packs a fierce emotional punch the trio mentioned above cannot match.
It's easy to forget that music was very much a second career to Gauthier, who is now 52 but did not release a record until she was 35. She spent time running a Cajun restaurant among other things, and it means her words have a world-weariness and lived-in feel which add to their resonance. Take fantastic opener 'When a Woman Goes Cold', a sharp country-blues which includes the superb bitter yet resigned couplet of 'you're no longer her concern, scorched earth cannot burn'. 'False from True' slows the tempo but retains that underlying rage, while the title track is six minutes of mourning, philosophically dissecting where it all went wrong over a stiff drink.
And so it continues. The mood rarely brightens, there is no levity or light relief here, but the searing honesty of Gauthier's words mean you are never anything less than in thrall. 'Another Train' and 'How You Learn to Live Alone' hint at some form of acceptance, with Duane Eddy's tasteful guitar licks enhancing the latter. By the time the eight tracks draw to a close there is almost a sense of emotional exhaustion, but it is worth every second. It's easy to understand why Bob Dylan, whose Blood On The Tracks remains the definitive break-up album, has spoken of his admiration for Gauthier. This is essential listening.
Words: Andrew Gwilym