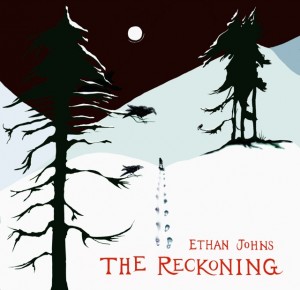 Swopping his familiar position behind the mixing desk to the recording studio himself, Ethan Johns, with a production CV boasting the likes of Kings of Leon, Laura Marling and Ryan Adams to name just a few, has stepped to the microphone once again for the follow up to critically acclaimed If Not Now Then When? Here, Johns found himself working with long-term collaborator Adams, who deftly returns the favour in producing the ten new folk tales which make up The Reckoning.
The record is very 'traditional' in the sense that most tracks consist of Johns and a guitar, a simple arrangement which is also extremely effective, especially when Johns' lyrics are given a chance to shine, such as on 'The Fool' and its delicately sung declaration that 'One day you're gonna have me acting like a fool, dancing in the shadows of the moon'. As with most folk songs, these 10 tracks focus on the classic idea of love, loss and heartache; these tales are told with a sense of melancholy.
If the majority of The Reckoning is low-key and perfect for cold, wintery nights, there is a curveball in the amplified and electric bluesy stomp through 'Talking Blues', which sees Johns ditch the sedentary nature of the acoustic guitar for distortion and foot-stompin' in a song which Jack White would love to have written. Yet, this is just a precursor to the tour-de-force of 'Black Heart', a hurricane of a song which uses the template of loud/soft to great effect. Johns is not just a one-dimensional musician; he is an accomplished and intricate one, and those expecting a rather quaint affair will be pleasantly surprised at the fact that he can truly rock.
Whilst The Reckoning doesn't reinvent the wheel from what Johns has released before, as a body of work it is a great collection of songs, and one can imagine this record warming the souls of those who pay close attention to it. Those who like their music sung with conviction and sincerity will find much to love here.
Words: Joe Sweeting