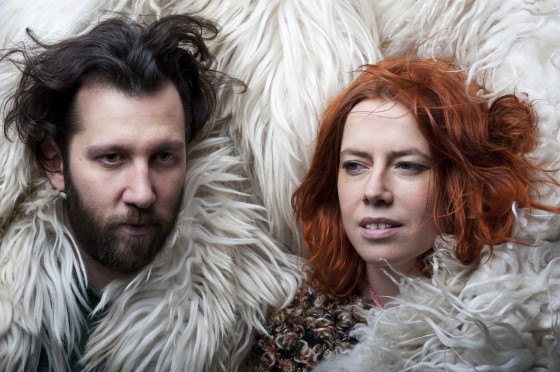 Canadian-Swedish duo Thus Owls have just released 'Bloody War', the third single from their Turning Rocks record which has received plenty of acclaim since its release in April. FFS' Joseph Merriman caught up with Erika and Simon Angell, as well as their new keyboard player Parker Shper, when they were wrapping up their recent tour to talk about the new directions on their latest album.
How is the tour going?
Simon: We went through 6 cities in 5 countries, starting in London and just finished it up in Hamburg. It all went great, especially that last show a couple days ago in Hamburg. We had such a positive response to our set on every gig, but something special was in the air for that last one. I love how music changes and solidifies throughout a tour. We like to keep on our toes when touring. So much time is spent doing other things than playing music when you're touring, that it's imperative for us to enjoy ourselves when on stage. If the band isn't having fun, that translates on a more cosmic level to everyone in attendance. Maybe it isn't so cosmic actually, it's just fact!
Your sound's progressed a lot since the first couple of albums. Have there been any new inspirations/influences for the range of styles prevalent in the new album?
Simon: Most certainly. The first major change is we worked with a new group of musicians (Stef Schneider on drums and Parker Shper on keys), so their voices definitely stand out. And our tastes change throughout the years as well. We're always on the hunt for new inspirations, be them musical or not. For this record, we did a sort of mental scrapbook (a trick borrowed from a film maker friend) before entering into the composing process. We collected records, films, poems, books, paintings, all manner of art really, and let those things seep into us. Erika and I compared notes, so to speak, and discovered our common ground. And there was a lot of common ground (of course we can't agree on everything!). Anything ranging from Japanese surf guitar to East of Eden by John Steinbeck to Paul Klee paintings. The list of inspirations would be too long to list here!
Was the move to a more nostalgic sound influenced the reminiscent lyrics of Erika's grandmother, or was this coincidental?
Erika: We knew from the beginning that this album would be more of a storytelling album, like a book including a bunch of short stories treating human life over a decade, so yes, that probably effected our choice in how we arranged this album, with sounds that might bring you a flavour of the past. But the main reason for the instrumentation and the sound of Turning Rocks is probably a result of me and Simon working closer together in the composing process and the common ground we ended up finding after the research Simon mentioned. Through out my childhood I listened a lot to my dad's compilation records of 50-60's music. Simon has a similar background so naturally that's where we end up. Another reason was alos the new musicians we worked with that colored the music with their voices and they definitely have more of a North American voice than the more sparse and frail scandinavian sound we come from in our earlier recordings.
Was it a conscious decision to move away from piano-based songs, or a natural progression into more experimental instrumentation?
Simon: It was actually. There are a couple different reasons behind the change. Of the music that was catching our ears, Erika and I realized one of the common grounds I spoke of earlier was 60's organs. (The Animals all of a sudden became a mainstay on our record player!). So we bought ourselves a couple vintage organs. A wurlitzer and a farfisa. Then we have Parker who has a pump organ that we treated in studio. With our old piano player, Cissi Persson, she was precisely that. A piano player. Playing anything that wasn't an acoustic piano didn't interest her. Then Parker came along, a great piano man as well, but he was also into expanding into the classic organ world as well, so we shared a common ground with him there too.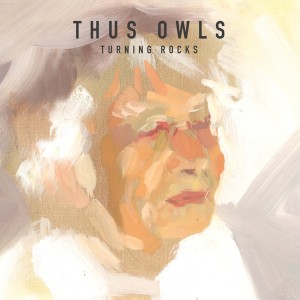 Do you feel you now have a sound locked down or do you think Thus Owls by nature, will always be in a state of transition?
Simon: I think Thus Owls, like the bird that bears our name, is in constant flux, movement. Those are the kind of musicians we are. As I said before, our tastes change as we get older. Sometimes we discover things we didn't enjoy before and some things stay with us throughout our lives. The important thing for us is to continue to push ourselves in new directions, down unknown paths, and to constantly surprise ourselves. Stagnation is death to art. It may sound matter of fact or cliché, but I stand by it!
Parker, this must have been a very exciting album to work on, as you experimented with old electric organs, were there any highlights of this process for you?
Parker: Often, when I record keyboards, I'm searching for very subtle ways to layer sounds and textures. I want to add three-dimensional elements to help lift the song up. When you stumble upon the right thing, or things, it can really glue the music together. On this particular album, so many of the sounds we wanted to hear were pre-digital-age so the palette for me was narrowed to vintage electric pianos, combo organs, tube amps, pedals, pump organs and a prepared old upright piano. These are beautiful-sounding-quirky old instruments. They made it fun and weird to find sounds that I love for every track on this record.
Who are you all listening to at the moment?
Simon: A lot of things really, but I'll cut it down to four records.
The War on Drugs – Lost in the Dream (still can't get enough of this record!)
Connan Mockasin – Caramel (saw him at SXSW. Mind=Blown)
Timber Timbre – Hot Dreams (good friends to us owls who happen to play amazing music. Taylor did the duet with Erika on the album closer Thief)
Ben Frost – By the Throat (always loved this record and it's been spinning a lot lately, again, in anticipation of his new record coming out in a couple weeks)
What have Thus Owls got planned for after the tour?
Simon: Well, at the present moment (we're two days post-tour) I'm in Berlin, enjoying a bit of R&R and getting inspired (going to try and get to a Berlin Philharmonik concert this evening), while Erika is heading over to Japan. But in a little over a week, we'll be back in Montreal and it's time to buckle down and start rehearsing for our Montreal Jazzfest show on June 30th. You always want to do something special when you play the biggest jazzfest in the world that just happens to take place in your hometown! We'll be heading to Toronto for NXNE before that and also some other shows (Ottawa Jazzfest, Quebec Festival d'été, Shebrooke Sherblues fest) at the end of June/beginning of july. Those shows will kick off festival season, aka summer.