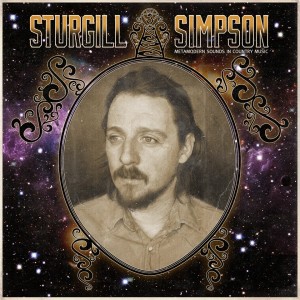 Jackson, Kentucky native Sturgill Simpson returns with the follow-up to last year's High Top Mountain, one which has already gathered widespread acclaim – and deservedly so. While its unwieldy title could leave even country fans fearing what lurks behind it, in truth there is something here for all comers.
The opening song introduces encounters with both Jesus and the devil in the opening verse, the latter apparently a resident of Seattle (and possibly a member of the Seahawks' defense, on the evidence of this year's Super Bowl). By the time Simpson theorises that a gateway in our minds leads to somewhere where reptile aliens cut you open and pull out all your pain, you begin to realise the song's title, 'Turtles All The Way Down', may be the least odd thing about it. Certainly, the reference to marijuana and LSD comes as no surprise – and nicely tees up 'Life Of Sin'.
"Sex is cheap" and Simpson is "smoking my brain hazy" and "drinking myself silly" on a song which introduces themes revisited later in the album – the notion that "every morning when I rise, I look in the mirror and despise, the sight of everything and all that I've become" recurs in the wild and wonderful 'It Ain't All Flowers', while the suggestion that "talk is over-rated" is explored further on 'Voices'.
The latter is one of the best examples of the album's other face, with Simpson's more restrained moments being really quite lovely. "A picture's worth a thousand words but a word ain't worth a dime," he croons on a song which stands alongside 'The Promise' and 'Just Let Go' – the latter dramatically opening "Woke up today, decided to kill my ego".
The album ends on a heart-warming note with 'Pan Bowl', which may sound like a toilet but is in fact a lake near Simpson's childhood home and here lends its name to a touching song that finds him longing for lost youth, a (desired) homecoming representing a fitting end to an album that wanders the boundaries of its genre and documents plenty of life's darker excesses.
Words: Tom White