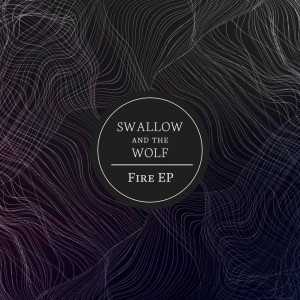 Vivacious indie-folk duo Swallow and the Wolf are on the brink of releasing Fire, a varied collection of songs blending folk guitar, warm vocal harmonies and driving piano and percussion. The sincerity of the song-writing and Russell Swallow's vocal performance are cradled perfectly in the richness of the instrumentation, as the pair create a sound that would grace admirably any type of live setting, from the intimate to the grandiose.
The title track opens the EP with intriguing cello harmonies, before the indie-rock guitar and Russell's vocals roll in. Plaintive meets optimistic as orchestration befitting The National erupts in the chorus, and Biffy Clyro's Puzzle era shines through in the bridge – "lights in the city are a map and a curse/I follow them forever with a drunkard's thirst". The song swells and fades, before the sweetness of 'Fight Tonight', complete with fast folk guitar picking and gentle piano.
The stand-out track is 'SOS', a devastatingly beautiful and enigmatic song, building up in intensity right from the moment the troubled piano chords ring out in the intro. The lyrical refrains weaved into the fabric of the song draw out clashing feelings of guilt, defiance and hopelessness – "she's been hanging on by tooth and nail//my heart can only take so much of this//take this longing from my heart". I especially love the stormy drum rolls in the background of the soaring mid-section, adding urgency to the music, and the way Russell sings "I thought it right to give you one last call/for what it's worth, I'm sorry" – you can really hear the hurry he's in to leave, and the emotional conflict pervading his every move.
Fire thus shows off the duo's musicianship and song-writing, and a full length Swallow and the Wolf album bearing the craft and emotive range of the EP is eagerly anticipated…
Words: Ned Mortimer