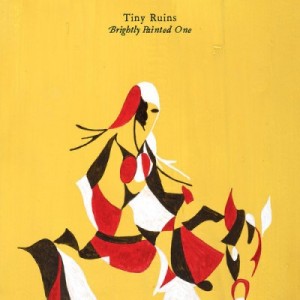 Hollie Fullbrook, singer-songwriter of Tiny Ruins, has a voice like honey tea, smooth and warm. This gives her songs a soothing texture, even when they're sad or wistful, slightly reminiscent of Nick Drake. Brightly Painted One opens with 'Me at the Museum, You in the Wintergardens', a love song. "I await the day / when I work at the museum / with you across the way / in the winter gardens". The museum and the wintergardens are a peaceful, permanently youthful idyll: "nobody feels old in the museum / nobody feels cold in the winter garden". The result is a bit like Talking Heads' 'Heaven', in its subject if not its sound ("Heaven is a place / a place where nothing / nothing ever happens").
'Carriages' is more meditative, then a high refrain loops in, throwing contrast. 'Chainmail Maker' is deeper and harder, quietly persistent: "Nothing of comfort here, […] thinking of what I hold dear / gotta keep on / try not to weep on / keeping on". It's perhaps the most moving song on the album, a chain of intricate rhymes holding it together, poetic without over-egging it. 'Reasonable Man' describes searching for a stoical partner to settle down with and being gently disappointed: "We need more reasonable men". 'She'll Be Coming Round', is a little haunting, slowing to a sleepy carthorse pace that gives me the urge to skip ahead, then there are some flourishes, a feeling of space, and the momentum picks up.
'Straw Into Gold' feels like a song about songwriting, "spinning straw into gold". The fantastical, adventurous, old-world imagery – mandolins and mandarin trees, sails on the horizon – is paired with self-awareness; I like it when Tiny Ruins allow more unvarnished moments to show through. In 'The Ballad of the Hanging Parcel', 'Jamie Blue' and 'Night Owl' the musing pace gets too comfortable and starts to drag, but the rhythm picks up again in the album's closing song, 'White Sheet Lightning', which is all sweetness and light.