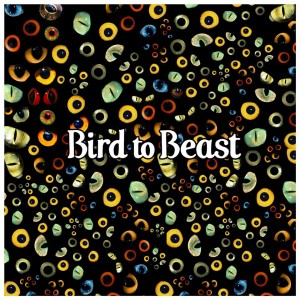 Championed by BBC 6 Music's Chris Hawkins, live appearances at Manchester City's Etihad Stadium, and festival dates over the Summer; Manchester based musical duo Bird to Beast (Sam and Hannah Hird) have crafted a debut album which is infectiously catchy and unique, designed to put a smile on your face and to make your feet move.
Kicking off with 'Good Old Days', (a nod and a wink to the style of music the Hirds' make), current single 'Elephant' follows, and crams into its three minutes the essence of pure, unadulterated joy, full of doo-wops and sing-alongs, as good a homage to the style of the 60's as any. It all seems so effortless, both in production and craft; something which carries on throughout the rest of the album's 11 tracks.
Influences range from the instrumentation of the Beach Boys, to the vocal comparisons to the Wainwrights, and there is a slight Freddie Mercury in Sam's falsetto on 'Super Beast', and yet Bird to Beast are more than the sum of these parts. They may style their sound as 'Psych-Folk', but in many ways they have created their own sound, a fresh take on the retro sounds of the doo-wop era of the 60's.
Vocal harmonies between the genders are usually always saccharine and sugary sweet, yet, in the vein of bands like Summer Camp, consisting of married couple Elizabeth Sankey and Jeremy Warmsley, the Hirds manage to harmonise together in a way which aids the music, rather than distracting from it. Neither voice fights for centre stage, and even though Sam takes lead on the majority of the songs here, Hannah's backing vocals give the songs emotional weight and depth, as on 'Winter's Snow', whereby her voice soars and sails towards the chorus. The stage is delicately and wonderfully shared between the two.
Bright things lay ahead for Bird to Beast, having won the Manchester Evening News' debut album of the year award in 2013, and you'd be wise to invest your time and attention in the band now, before the rise into stardom. If they can carry on writing songs as good as the eleven on offer here, the sky
is the limit. Success is only a radio hit away.
Words: Joe Sweeting