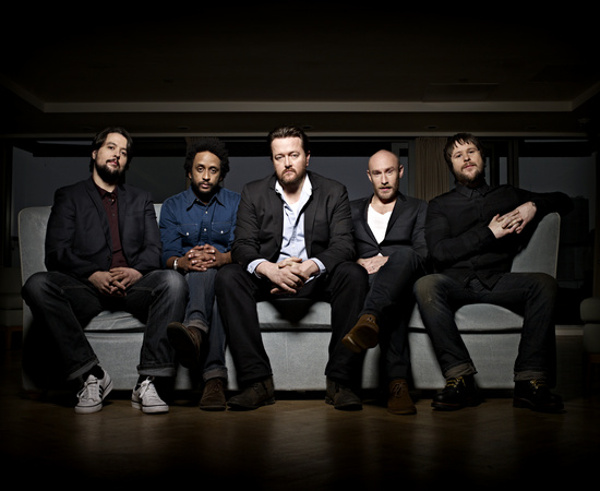 There's something inherently paradoxical about the ubiquity of Elbow's mammoth hit 'One day like this' – a song about a single, brief moment of life-changing beauty that ended up being, well, everywhere.  In fact, I've often doubted whether a body of work so intimate, so personal, could ever translate into an Arena setting. What if they've become a thinking man's U2? Tonight, this fear is permanently eradicated.
What's most impressive is that none of the subtlety of tracks like 'Mirrorball' and 'The Night will Always Win' are lost in such a deceptively gigantic venue. Garvey has an innate ability to connect with an audience – he could make Easter Sunday mass at the Vatican seem like Sunday morning tea and biscuits with the vicar.
His showmanship isn't forced or contrived, just warm, genuine and impeccably timed. During a slightly incongruous outing for prog-rock juggernaut 'The Birds', Garvey takes a phone from a front row dweller and films himself and the band during the song's soaring climax. Rather appropriately, it's a moment of beautiful spontaneity. This isn't a one man band though. Mark Potter's guitar bristles with an acerbic intensity that it perhaps doesn't on record, and a fine string quartet lend extra heart swelling gravitas to the band's rhythm section.
A night that begin with a fine support set from Doves front man Jimi Goodwin ends rather predictably with the aforementioned mega hit, and even though the lady behind me greets its arrival with the statement: "I love this song – 'A Beautiful Day'", I leave safe in the knowledge that the only similarity between Elbow and U2 is that, God forbid, they became popular.
Michael Regan