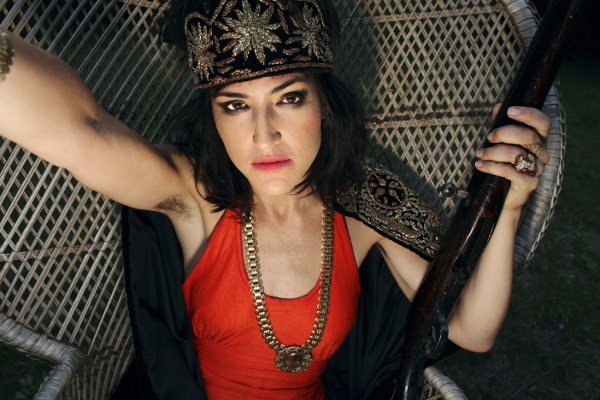 "I'm not here to be the sufferer, for the fears of all humankind. I'm here to sing and get up in your everything." So goes the chorus of 'Shame', though it could well function as a manifesto for Joan Wasser's latest incarnation.
There was a time when the music press seemed incapable of mentioning her without a subsequent reference to her long deceased ex, Jeff Buckley. Rather unfairly she was portrayed as a rather forlorn, perennially grief stricken figure. Two albums of lovelorn balladry only hardened the perception – "I'll be at the back of the hall after the show, answering deeply personal and uncomfortable questions", she quips tonight, knowingly.
But with this year's The Classic – a defiant, seductive, grooving directional shift – Joan is reborn. The album dominates the set, and openers 'What would you do?' and 'Holy City' snarl with a soulful swagger that one could never have foreseen circa 2005. Her current band's sound is both anarchic, and utterly controlled, a grooving, smouldering classic car, custom made for Joan to drive.
It's not contrived though. This is a transformation that suits Joan, both musically and personally, she always seemed too damn sassy to be a balladeer. She's having fun, and never more so than during her band's acapella rendition of title track 'The Classic' – a moment of genuine humour and joy.
Somebody else having fun is tonight's support act Jake Isaac, who simply seems blown away that the crowd have any interest in him at all – "Are you actually enjoying this?" he gushes in disbelief. His urban folk is pleasant enough though, and with some aggressive corporate marketing here and a John Lewis advert there, he'll soon be a household name, but you're left longing for something a bit more meaty. Thankfully, that's a yearning that Joan proves more than capable of satisfying tonight.
Michael Regan