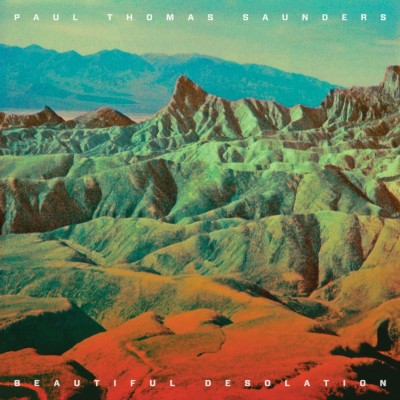 It can be hard sometimes to put your finger on exactly why you like an album. It's enough, perhaps, that it simply demands to be listened to over and over again. It's almost impossible to imagine anyone hearing Beautiful Desolation and not coming back for more – it's engaging, surprising and utterly irresistible.
It's not every day we hear an act with the tag of 'FFS favourite' denounce acoustic guitars and cite Vangelis as a major influence on their new material. So you could forgive us for being a little trepidatious upon settling down to listen to Paul Thomas Saunders' debut album.
But Saunders, formally of the verdant Leeds music scene, is a musician of rare talent, and of course he knows what he's doing. What's perhaps most impressive is that he's taken some of the best songs from his back catalogue of EPs and singles and made them even better. Perhaps most notable among these is 'Starless State Of The Moonless Barrow', the stand-out track from the Four Songs In Twilight EP which is taken into orbit with the electronic treatment it gets here.
The space metaphor is an apt one – it's the dominant theme on an album where form and content mesh perfectly. It's a retro view of the future, and the Vangelis influence is keenly felt – nowhere more so than on 'In High Heels Burn It Down' and 'Wreckheads & The Female Form' which sound almost like they could come from a musical version of Blade Runner. It's an atmosphere set up by sweeping opener 'Kawai Celeste', and one which never goes away.
On any other album 'Kawai Celeste' might claim the adjective 'epic'. But the whole collection is so grand, so big in scope – so epic in fact – that the description becomes redundant. It's a remarkable achievement that it doesn't ever become too much, but its relentlessness is never anything but positive, characterised in the lingering beauty of 'Appointment In Samarra'.
Beautiful Desolation is an album of such strong character, a perfect advert for allowing an artist to find his way before tackling a long release. Most importantly though it's uplifting and beautiful, a record that demands your attention and does wonderful, unexpected things with it.