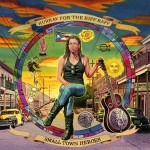 Hurray for the Riff Raff – Small Town Heroes
Alynda Lee Segarra's affinity for the old-time sounds of New Orleans is well-established four albums in to the life of her occasionally ramshackle ensemble Hurray for the Riff Raff, and so is her skill at capturing them in her own music. Small Town Heroes contains no surprises, no gimmicks, and few new tricks, but nor does it need any. The Bronx-born Segarra found a spiritual home on the banks of the Mississippi and is growing more assured with every record. She branches out geographically on opener 'Blue Ridge Mountain' and her nod to Jesse Fuller's classic, 'The New SF Bay Blues' but it is when she sings of the Big Easy – such as on St. Roch Blues – that Segarra is at her best.
___________________________________________________________________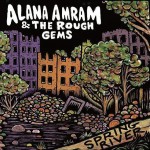 Alana Amram & The Rough Gems – Spring River
If there is a direct, straight-from-the-heart feel to about Alana Amram's songwriting, there should be – many of these songs started life on the back of receipts when she was bartending in Los Angeles. But what really wins you over as soon as this record starts is the warm, rich sounds of the band, reminiscent of Jesse Sykes and the Sweet Hereafter at their best. This is broad-brushstroke Americana, with Amram's husky voice a comforting arm around your shoulder on the journey.
___________________________________________________________________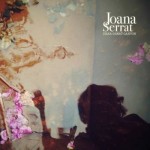 Joana Serrat – Dear Great Canyon
There may be nothing new about Joana Serrat's influences (stop me if you've heard this one before: she was raised on a mix of Neil Young, Bob Dylan and Woodie Guthrie) but the music she now makes comes with a Catalan accent thanks to her upbringing in Vic on the outskirts of Barcelona. After putting together some early recordings she sent some to producer Howard Bilerman (Arcade Fire, Vic Chesnutt), asking if he could make her dream come true. "I love to make dreams come true", came the reply, and Dear Great Canyon is the result. Over the space of 12 songs, Serrat mixes a range of styles; alongside the Americana staple pedal steel comes a range of swirling guitars, orchestra strings and jazzy riffs, but the diversity does not come at the expense of continuity as Serrat finds her own confident voice from within the classics.