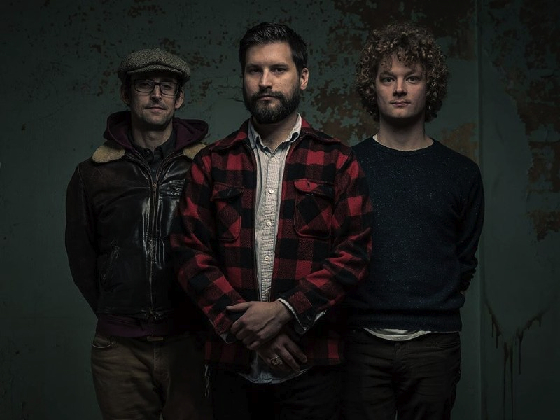 Milwaukee alt-rock trio, Twin Brother, draw together chiming electric guitar chord work and cascading drum patterns to form a distinctive sound that is both sincere and a little rough around the edges. Their eponymous debut album features a selection of their Milwaukee friends, and the band have infused local feel and traditional folk roots into their style, while the addition of bassist-violinist, Lodewijk ("Lodi") Broekhuizen, into their permanent line-up forms a significant moment in their musical development. Lead vocalist Sean Raasch sits down with FFS to chat about their song-writing and aspirations.
Your music, and particularly 'Blood Money and Treason', conveys a mixture of melancholy and optimism; what single emotional quality do you most want to convey through your music?
To be honest I don't really have an emotional quality I want to convey through music. I do however have a feeling I'm trying to achieve for myself – I think you nailed it with melancholy and optimism. There is definitely a balance of both throughout most of the songs I write. I find myself constantly visiting both in my life. I think that is an honest struggle for most people in life as the world can be cruel but what saves you from it is positivity.
For someone that's never been to Milwaukee, how much of an impact do you think place has on your music?
It's not so much the city of Milwaukee as much as the weather. The winters can be bone chilling cold. In those times I find myself in the deepest mental and emotion battles I usually face. Writing songs and playing music is a much needed fight of conflicting emotions for me. Every time I'm on stage I'm in the middle of one of those said battles.
How did you all meet?

Tyler (drummer) and I have been friends since high school, which was about 12 years ago now. Lodi (bass) came into the picture later in our lives as a sound engineer at one of the clubs we would frequently play. He would offer his bass abilities to us as we were just a two piece at the time. It took a while for us to take him up on it but we eventually did and we couldn't be happier about that decision.
How does the balance of power work in the band? Does one of you take a more prominent role in making decisions, or do you share that honour, and if the latter, how do you deal with any tensions?

I write the songs but we all have a say in the individual parts we play and that's what makes a band a band. We each have our individual talents that compliment each other so well and it works. In the studio we all have a say in the parts being created but I'd like to think in the end it's a product we are all collectively happy with. Very, very, very rarely are there ever any tensions about stuff like that.
What has been the most important lesson you've learnt in your development as musicians?

I personally have learned so much it's hard to put into one single answer. The most important thing I'd say I've learned is patience.
Besides presumably being musicians, what would your dream jobs be?
I've done a little of this already but I'd love to be a radio host. Tyler is in school for journalism and Lodi is living his dream job as a full time musician and sound engineer.
What was the happiest moment of your life?

I really don't have one single happiest moment. I can say that currently, this is the happiest time of my life due to several different factors. I have a good woman, family, band, friends, job and overall life. That happiest moment of my life is probably coming soon.
Words: Ned Mortimer