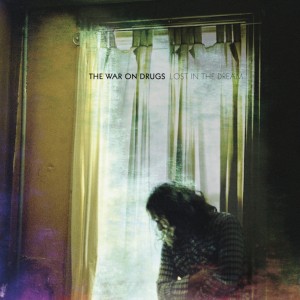 The nights are getting longer, the sun is finally starting to appear after hiding behind a perpetual raincloud throughout the bleak winter months, and Spring is upon us, as is the latest record by The War on Drugs; a musical representation of the physical changes Spring brings. Lost in the Dream, the follow up to 2011's Slave Ambient, sees Adam Granduciel crafting a record very much in vein with the great American Songbook style of Springsteen-without the full on cacophony of sound the E Street Band provide. Granduciel excels in understatement, focusing on ambience rather than bombast, atmospherics and intimacy over guitars turned up to 11 and fireworks. It is, per se, a rockrecord, but only in the loosest sense of the word. The War on Drugs rock, in the shoegazey, general appreciation of the musicianship kind of way.
Out of the 10 tracks on offer, only three fall under the five minute mark, including single 'Red Eyes', which is almost an outsider when placed with the rest of the record; the poppier nature of the music not reflecting what else is on offer. Lost In The Dream opens with a nine minute sprawl, 'Under the Pressure', which begins with the gentle whirring of guitar and a rare toe-tapping drum beat, before settling into a languid groove, horns weaving their way in and out of the mix, vocals sparse, letting the music do the talking. Granduciel's vocals are used sparingly, his poetry a mixture of sadness, travelling and yearning, and is sung in such a way that it feels fresh, rather than trotting out the same clichés.
Lost In The Dream is an album to put on and drift off, to have on at dusk and again at dawn, to play loudly on road trips and softly in bed. It is a record which requires your attention in order to truly appreciate the music Granduciel has crafted. Spring has sprung, and already we have another contender for album of the year.
Words: Joe Sweeting