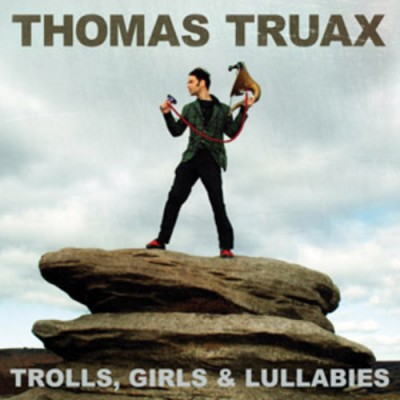 We're always excited to hear about an artist doing something a bit different, so the latest album from Thomas Truax really caught our attention.
Trolls, Girls and Lullabies is a soundtrack to a German production of the Henrik Ibsen play Peer Gynt staged in Dortmund, Germany, by acclaimed director Kay Voges.
The album is a weird and wonderful assortment, a punky mix of folk, lullaby and rock music, all done in the inimitably strange Truax style. Listen out in particular for the Rolling Stones cover.
Truax says you don't need to know the story of Peer Gynt to appreciate the music.
"Along the way you get blues, rock, surrealism, nightmares, trolls, love, beauty, death and other weirdness, all that stuff that songs are made of," he says.
"The songs come from pretty basic emotions that the characters are experiencing, or are there to create an aural atmosphere.
"Most times we don't have to know the story behind a song to get an impression of what it's about."
We're delighted to offer an exclusive first play of the track 'Always Been A Dreamer'.
Truax will be on tour in April and may to coincide with the release of the album next month. For full details check out his website.
Tour dates:
April 16 – London, Ivy House

April 18 – Oxford, Art Bar

April 22 –  Leeds, Brudenell Social Club

April 23: York, Fibbers

April 25 – Bristol, St. Georges

April 26 – Newcastle, The Cluny

April 28 – Stockton, The Georgian Theater.

April 29 – Liverpool, Mello Mello.

April 30 – Birmingham, Hare and Hounds Kings Heath.

May 1 – Guildford, The Boileroom

May 2 – London, The Lexington

May 4 – Manchester, Sounds From The Other City 2014 Mayday Festival in unusual spaces, Chapel St, Salford

May 5 – Leeds, Live at Leeds Festival, Oporto

May 7 – Hull, The New Adelphi Club

May 8 – Preston, HED at The Mad Ferret