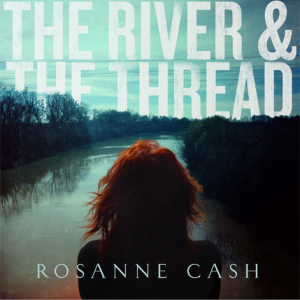 In an ideal world, you'd want to allow an artist – particularly one of the quality of Rosanne Cash – to stand on her own terms rather than constantly link her to her famous parents. Cash, though, is making it ever more difficult in recent years.
Johnny Cash died in 2003, just months after his wife June Carter Cash (Rosanne's stepmother), and ever since then Rosanne's work has been inextricably linked with Johnny in particular (in fact, they had duetted some months earlier on 'September When It Comes', a song by Rosanne written largely to cope with her father's failing health). Black Cadillac, released in 2006, dealt openly with the deaths of the couple in addition to Rosanne's birth mother Vivian Liberto, The List was a 2009 album of covers of Johnny's favourite songs and now The River And The Thread sees New York resident Rosanne revisiting the southern states where she grew up and drawing on the stories and inspirations found there.
Involvement in the restoration of Johnny's childhood home started the journey and, through playing at a fundraising concert, helped inspire 'Etta's Tune'. Etta is the wife of Johnny's original Tennessee Two bass player Marshall Grant, who died while Rosanne was there for the concert, and the song's opening line "What's the temperature darlin'?" was the loving couple's regular greeting to each other.
'Money Road', whose opening line "dreaming about the Tallahatchie Bridge" provides the album's cover image, is about travelling the Missisippi route which also houses blues legend Robert Johnson's grave and the spot where Emmett Till was murdered, helping to kick-start the civil rights movement. 'Biloxi', a Jesse Winchester cover, is given a sensual treatment – indeed, the promotional copy I was sent sees fit to seemingly censor the end of the song, hastily cutting off after the line "we were splashing naked in-" and skipping ahead to closing track 'Your Southern Heart'.
While there are rockier numbers on show, notably accurately-titled opener 'A Feather's Not A Bird' and 'Modern Blue', it is on the raw, emotional ballads where the album truly shines. 'Two Girls' is a highlight while the album's stand-out track, 'When The Master Calls The Roll', remarkably was written by Rosanne with both her husband John Leventhal and her ex-husband Rodney Crowell and grew out of helping her son with a Civil War project. Finding Cash surnames on both sides of the conflict, Rosanne drew on two of them as characters and admits she had no idea how the story would pan out when she began to write the song.
Beautifully, is the answer, as well as heartbreakingly – the same as applies to so much of this tremendous album.
Words: Tom White