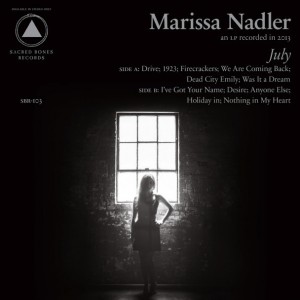 July is Marissa Nadler's sixth full-length album release since 2004 and is arguably her most compelling work to date. The slow-paced melancholy style and subject matter are familiar, but the delivery is now more certain and sure-footed.
Opening track 'Drive' makes light work of setting the mood for the album. Steady finger-picked bright acoustic guitar introduces gentle waves of her layered choral backing. Her distinctive languorous voice begins, "If you ain't made it now / Never gonna make it / Seventeen people in the dark tonight".
Words float down gently, settle, and build up a wintry soundscape. Reverberation and minor keys abound. Whilst the lyrics are clear, the details in the songs are often veiled, which invites the listener to suppose new meanings on each subsequent play. This adds sustained interest to a set of songs that is already unique and beguiling.
There is a lot to like on this album and the songs are all to the same high standard and sit together well. Stand out tracks are '1923' – the sublime story of a letter sent across the ages (second class post anyone?), 'Firecrackers', which conjures up the qualities of 1950s American music, and the hypnotic 'Dead City Emily'.
The music is consistently tuneful and elegant, and is the perfect backdrop to the vocals. Themes on the album embrace the emotion of memories, love, ghosts, and what could have been. Nadler infuses the songs with a graceful calm and steadfastness, and delivers her thoughtful words plainly.
With July, Nadler continues to develop her hauntingly beautiful style. The melodies, composition, lyrics, and the way the songs are sung are all uniquely her own. This is an album that will be treasured by her existing fans and will no doubt create her some new ones.
Words: James Houston