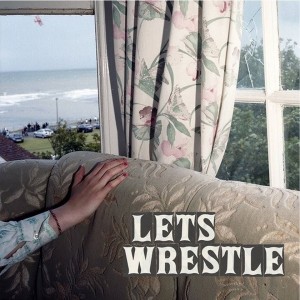 Five years and two months have fair rattled by since the first and last time your reviewer witnessed a Let's Wrestle live show, supporting the tour-raw Vivian Girls in a Leeds upper room, their fiery art-rock assault pointing persuasively to a future of splenetic burnout, like many a delicious one-night thrill before.
They were the personification of Art Brut's My Little Brother: with a noise in their head and out of control. Let's Wrestle's third record is one that seemed hardly feasible on that December night in 2008, when the Londoners unleashed a hurricane force of sturm und drang on the few dozen that had turned out early.
Yet here come Let's Wrestle in 2014, still self-referencing after all these years, following a self-titled 2008 single and the debut LP In The Court Of The Wrestling Let's. Given the propensity to make good use of their name, it would be making a leap to draw conclusions from this record's title. But the teenage agitation that was once distilled into their music has been supplanted by a mild manner, and it is worth knowing this has been ostensibly a solo project, frontman Wesley Patrick Gonzalez pulling rank by writing all the parts and making it a record entirely of his own rather bleak vision.
So perhaps the LP's title signals a new start. Or maybe labelling albums is the only element of making a record Gonzalez really couldn't care less for. Reflecting the change of pace, Gonzalez, who is in his early twenties, has cited Crosby, Still, Nash & Young and Fairport Convention as growing influences, and you're not far into Let's Wrestle before stumbling on an aching heart.
After leaving the brakes off for the opener Rain Ruins Revolution, Gonzalez adopts a more languid step on the sorrow-soaked I Am Fond Of You, seeming to indicate a relationship's disintegration with its opening stanza: "Moving men are moving things but I just watch/ I'm not tough enough for moving stuff/ My friends have phoned they're calling round and I can't wait/ I hope they're not too late, I'm all alone."
Later in the song, he laments: "Once again I've covered my feelings/ And once again you've gone." (If I've misread that song, lyricists need to look at themselves and stop leaving red herrings lying around.)
Former Hefner man Darren Hayman plays guitar in parts and Roxanne Clifford of Veronica Falls is another notable guest, sashaying up to Gonzalez on 'Pull Through For You', a getting-the-flick tease recalling the bilious break-up skylarking of Lush and Jarvis Cocker's Ciao.
Clearly the neo 'Glasgow School' of Orange Juice and The Pastels influences Gonzalez's writing too. For all the pronouncement of this being a newly mature record, it packs a soft-shoed indiepop kick as well. It shoes it on through to the rueful closer Watching Over You, that begins with the foreboding line: "Shaking in the kitchen, everybody tells me how good things have become."
There is nary a cheerful lyric within Let's Wrestle, but there is some exquisite phrasing, especially on the harrowed-in-Hackney single, Codeine and Marshmallows. Stumbling on the sobering realisation his "baby's gone far away, to Queensbridge Road", Gonzalez reports the cocktail of the song title's ingredients "have an aftertaste of sick and blood and loneliness".
T
hen the flavour that underpins this absorbing album reveals itself in its fullest form, as intense anguish spills over into the confessional: "She is my winter and she's laying claim/ I'm sucking on a spoon, 'cos her name is pain/ Lord, give me water to clean up my face/ It's what i was born into, born into disgrace/ And all I need is love, and a better place."
Let's Wrestle borrowed their name from the title of a David Shrigley comic book that was itself laced with unnerving and quirky content. Like Shrigley, they are well worthy of your attention.
Words: John Skilbeck