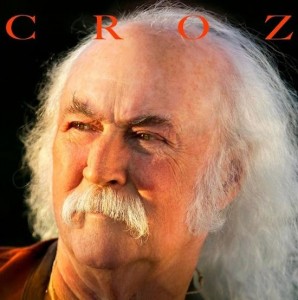 Crosby – long-time recording colleague of Nash, often Stills and sometimes Young – returns with his first solo album since 1993, and a real treat for fans old and new.
Opener 'What's Broken' is illuminated by Mark Knopfler's guitar playing and, while while that is a one-off guest appearance from the Dire Straits man, a similar blues style underpins several of the album's bigger-sounding songs including the excellent 'Set That Baggage Down' – a song which is not difficult to read as Crosby letting go of his debauched past.
Now 72, the Californian's battles with drugs have been well documented – he served almost a year in prison in the 1980s and required a liver transplant 10 years later – and lines such as "Everything that broke you, bury it in the sand" tell the story even before the refrain of "No more, no more".
'Croz' is at his best these days, though, on the album's gentler numbers such as 'Holding on to Nothing', 'Dangerous Night' and best of all 'If She Called', the latter all the more remarkable for a piece of such tender beauty having been born out of Crosby witnessing the dispiriting experience of a group of prostitutes outside a Belgian hotel.
The album title tells its own tale, especially when set against his solo debut from 1971, 'If I Could Only Remember My Name' – he's nailed that this time around. His 1995 live album was called 'It's All Coming Back To Me Now' and his career retrospective was entitled 'Voyage', but this new collection sees him settled, content and making music for the sheer love of the enterprise.
Words: Tom White