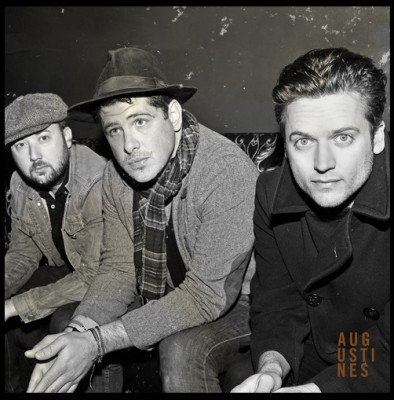 The band formerly known as (We are) Augustines have dropped the prefix, due to a legal dispute, and created a new record under the simple name, Augustines. Those who were fans of their debut, 'Rise ye Sunken Ships' need not worry; though the name has changed, the music definitely hasn't. 'Rise Ye…', which saw its release two years ago, was this writer's album of the year, a fantastic mix of soul, melody and world weary grit of singer Billy McCarthy's voice, championed by serial tastemaker Steve Lamacq on his afternoon radio show on BBC 6 Music. Across 2012, 'Augustines' played festivals all over the world, but seemed to have found a home here in the UK, playing sold out shows and attracting a small but fervent fanbase.
Augustines returned towards the back end of 2013 with the fantastic single, 'Nothing to lose but your head', three and a half minutes of pure joy, encapsulating all the elements that made this band special upon hearing 'Book of James' for the first time some three years previous.  As lead singles go, 'Nothing…' is how it should be done. It is difficult to pinpoint exactly what makes it great; musically, it has a great hook, and a certain grace-this is the type of song which is guaranteed to brighten even the bleakest of days.  Without wanting to sound contrite, the listener can sense that McCarthy shares their pain. It takes a certain skill to connect with a listener in such a way, and it is very rare that bands can create that musical bond. Augustines are one such band.
In the press release accompanying the album, the band state that at the heart of the lyrics, at the base of the music-is the idea of a journey; of finding yourself on the other side of tragedy, and dealing with the aftermath and the changes in your own life. This is discernable from the introduction of a Gospel choir into tracks such as 'Weary Eyes', almost as if to mirror the uplifting nature of the music.
After the success of 'Rise Ye…', it was always going to be difficult to try and top it with a second LP. The first album afforded Augustines with the opportunity to try and expand their horizons whilst retaining the 'Americana with a twist' style that they had made their niche. Rather than suggest that this is a band who would struggle to repeat their success, Augustines proves that there is only more to come. It may not be the LP to crack the difficult non-digital radio market share, but then it doesn't need to be. For old fans and for those new ones; 'Augustines' is 43 minutes of joy.  You can't really give a better seal of recommendation for a band than that.
Words: Joe Sweeting