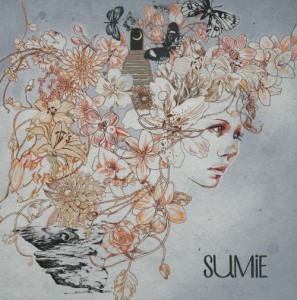 Sumie's eponymous new album shows off an array of haunting melodies, her voice floating on top of intricate trance-inducing broken guitar chords. An exercise in the stripped down, most of the tracks feature only her vocals and guitar, with occasional harmonies or ambient backdrops. She allows her voice to breathe, beautifully captured, clinging onto the notes, as the guitar drives the rhythm underneath.
The album starts crisply with 'Spells You', the bass note in the chord progression sliding down a semitone each chord, before her voice is introduced, drifting into the swirling chords. 'Never Wanted to Be', while slightly darker, continues the theme, the guitar moving back and forth between A-minor and D-major ('Note to Self' by the Divine Comedy uses this chord progression really nicely). 'Let You Go' features the album's first harmonies, filling out the chorus, with strong hints of more downbeat First Aid Kit ('Midnight Glories' also rings nicely of them). The beautiful and haunting 'Hunting Sky' has a chorus that pervades your head and chills your skin – "a hunting sky//with a bow made of clouds//will shoot us down". Here she pushes her vocals slightly, continuing for a split second after the natural end of the notes, echoing this urgency in the guitar line.
'Show Talk Windows' brings ethereal backing vocals into its chorus, adding depth to the music. In all of the songs, Sumie is cautiously exploring around her guitar-vocal staple, but keeping it minimal, timidly rooting herself in the guitar and returning to it to finish the songs. 'Speed Into', which also features low ambient notes, has a certain tribal feel to it, as she pauses on unnatural suspensions, particularly on the word "slowly" – the notes are dragged out as she extracts and reveals her subtle but nevertheless fierce emotion. The album closes with piano-based track 'Sailor Friends', warm, heartfelt, and ever so melancholic – "we trip, we slip, we can't pretend//because we are sailor friends"…
While I am one for enjoying the more layered and varied, I would recommend Sumie's album to anyone with a penchant for stripped back, gentle folk singers. She sets herself apart with her unusual array of chord jumps and affected vocal performance, the characteristics for which Sophie Jamieson, among others, has garnered a devoted following. She varies her songs in her own way, with subtly different moods in each track, often based on the rhythm of the guitar picking.
Words: Ned Mortimer