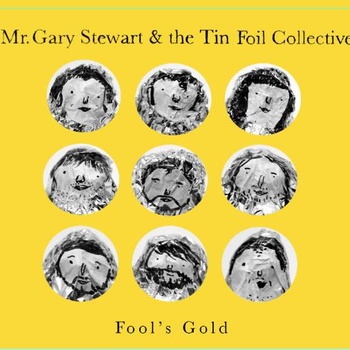 Gary Stewart, for those who may not know, is the bassist in For Folk's Sake favourites Ellen and the Escapades, and this is his latest collection of songs recorded under his own name and released independently way back in the warm, September haze. Rather than an album made for sound tracking long, hot days in summertime, Fool's Gold has melodies and wistful lyrics which match the cold bluster of our wintertime.
Stewart's influences are clear from the offset; imagine Billy Bragg but with a greater lilt to his singing voice and you'll be halfway there, yet there are also traces of Simon and Garfunkel in the musical arrangements, which seem to have been lifted from 1960s Americana and transplanted into 2013 Scotland. Stewart would benefit more from having a foil, another singer to trade off, and on some tracks the dulcet tones of fellow folk musician Rosie Doonan resonate and carry alongside Stewart's. This is most evident on the album's stand-out track, 'Watertight', which sees Stewart imploring a lover, a confidante, to curb his wandering days and make him a home bird; "You were born to hold your own/unlike me this rolling stone/so stitch me up so I can't fight/and make me safe and watertight".
Lyrically, the theme running throughout the album's nine tracks is of growing up, of settling down and finding one's place in the world. Stewart sings of being "taken by the hand" and "seeing the world through a child's eyes", and of being "stranded, wondering for far too long…about lovers in the night". Musically, the folk collective he has assembled are a talented bunch as you'd expect, and carry the album through expertly.
This year has seen a lot of albums come and go, and in the age of the iTunes single taking precedence, it is reassuring that albums by people like Gary Stewart are still being funded (this one independently through pledges) and produced, almost sticking up two fingers at Mr Cowell's mass-produced radio-friendly unit-shifters. It takes repeated listens, but 'Fools Gold' is one which sticks around even after the final bars of the last track.
Words by Joe Sweeting