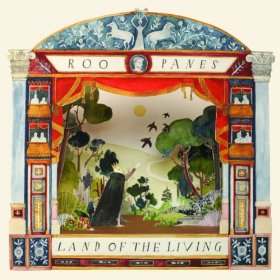 There's something honest about Roo Panes' music – he manages romanticism without melodrama, sincerity without sentimentality. Indeed Land of the Living's opener, 'Glory Days', where a ukulele is strummed alongside bowed strings, serves as perfect image of what Panes has to offer.
The title track shows off the flair for playful melody which those who've heard the Weight of your World EP will be familiar with – the kind of melody that you'll spend your week whistling and humming – decidedly catchy, but never annoying. These melodies appear consistently throughout; accompanied this time around by driving rhythms which give the whole EP energy, a sense of movement. Considering that a debut album is due early next year, this seems utterly appropriate, although it does in places stray dangerously close to that foot-stamping, 'barn dance' formula which certain folk/pop crossovers have rather overused in the last few years.
Panes counts Nick Drake as an influence, and nowhere is this more obvious than in 'Little Giant' – the EP's second track – slow building, spacious, complete with a partially falsetto vocal line (occasionally broken, revealing the honest approach to production on his vocal which he, to his credit, has chosen to take). There is, however, a fine line between influence and imitation, and this track falls on the wrong side of that line, putting it in the rather uncomfortable position of being both the best song on the EP and the victim of a comparison with Pink Moon-era Nick Drake – to which it just won't stand up. It is, however, important to remember that this is an EP Its purpose is (in part at least) to be experimental, for Panes to test what will or won't work before putting together an album.
All things considered, Land of the Living marks an important junction in Panes' musical style. His arrangements are at times brilliant, his lyrics sincere and often delicately poetic and there is an air of honesty about his songwriting which lends him great charm. His music is at once ambitious and decidedly modest and if he can build his debut album around these strengths and carve out his own style, there is no doubt it will be excellent.
Words by David Fraser