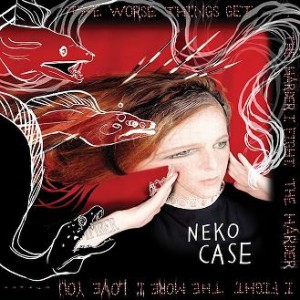 'Where Did I Leave That Fire?' asks Neko Case on the penultimate song on her sixth solo studio album, the long-awaited follow-up to 2009's double Grammy-winning 'Middle Cyclone'.
The good news is that it burns as fiercely as ever on these 12 songs, with Case's creativity and individuality equally undimmed. The 42-year-old's style has often been labelled "country-noir", though only the second half of that description is particularly applicable on 'The Worse Things Get…' as she veers frequently into folk-rock territory – perhaps unsurprisingly given collaborations from members of My Morning Jacket and her fellow New Pornographers bandmates.
The prolific M Ward returns as well, providing guitar parts including on lead-off single 'Man', on which Case puzzlingly states "I'm a man's man, I've always been" (the accompanying promotional photograph shows Case in full cowboy get-up, complete with a fine moustache). Though she goes on to claim "I'm not an identity crisis", we find her two songs later as a "Friday night girl" while 'Bracing For Sunday'.
The latter forms one of a stand-out pair of songs in the middle of the album and includes the disarming lyric "I only ever held one lover, her name was Mary-Anne. She died having a child by her brother. He died because I murdered him." Coupled with her warning on 'Man' that "Those fat-fingered bullies were no match for me, I still taste them in my teeth", we can surely put to bed those fears over the whereabouts of Case's fire.
Following 'Bracing For Sunday' is 'Nearly Midnight, Honolulu', an astonishing a cappella piece dealing with the lack of, or craving for, parental love. The arresting line "Just get the f*** away from me. Don't you ever shut up?" was apparently inspired by hearing a mother yell just that in response to her young daughter's singing, bringing home to Case the emotions towards her own late parents tied up in her feeling that she "just wasn't really parented, per se".
Equally haunting is 'Where Did I Leave That Fire?' itself, its curious clangs and underwater bloops representative of the depressive fog ("I wanted so badly not to be me") from which Case emerged to create an outstanding and at times mesmerising album.
 words: Tom White