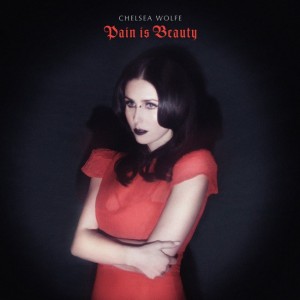 Upon hearing Pain is Beauty for the first time, even before reading in Chelsea Wolfe's website bio that her third studio album is 'a self-described love letter to nature', it was clear that the essence resonating most strongly throughout is that of our natural world. With lush layers of electronic and instrumental elements there is much to manage in this record, which Wolfe does skilfully, with raw intensity as well as tenderness. She maintains a commanding presence in all twelve tracks; a conductor before her grand orchestra, as in control of the thick, dramatic build-ups as of the ebbing, ethereal echoes.
Wolfe's love letter opens, beckoning menacingly with the engulfing reverb rings of a circling beast's approach in 'Feral Love', then sweeps along the swaying meadows of 'House of Metal's sinister lullaby combination of keyboard and horns. The swelling, unhurried whirlpools of beats and strings in 'The Waves Have Come' are wonderfully mesmerising, and finally release us to drift, gently guided out by the haunting vocals of 'Lone'.
Chelsea Wolfe has delivered an album of quite timeless quality; with the effects-heavy guitar and layered, hypnotic vocals there is often the gothic sound of early Cocteau Twins present, which is possibly proof enough of this in itself. However, her experimentation with the acoustic elements, ringing of her more folk-orientated sound of previous records, combined with ambient, eerie electronics is a reminder that Pain is Beauty has evolved from an astoundingly forward thinking artist.
Words by Jules Foreman