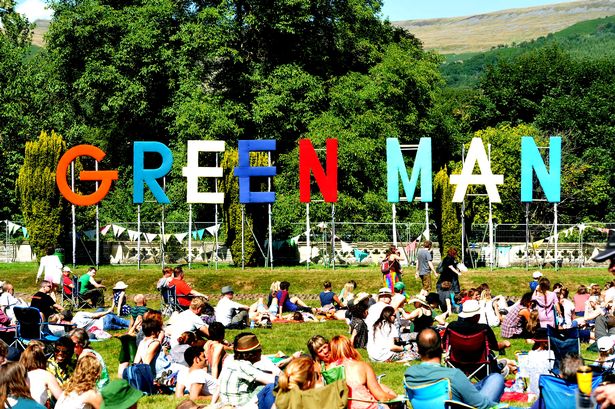 Hidden in the depths of a valley in the Brecon Beacons lies one of the world's best-kept secrets. Greenman Festival celebrated its tenth year anniversary, and served to be, yet again, one of the best festivals I have undoubtedly ever been to. Perhaps it is simply down to Team FFS' love for strange folk music with all sorts of banjos, fiddles, interesting guitars and lots of cider, but having said that, there's an awful lot to do in several fields across one weekend. Have you ever wanted to learn to learn to walk on a tightrope? Or have free and friendly banjo lessons on a grassy hill? Or hold a three-week-old chicken? Or dance while Pete Paphides DJs some feel-good psyche until sunrise? Or even swim naked in a river? I genuinely mean it when I say that the Greenman Festival has everything you could ever dream of.
Arriving on a glorious sunny Thursday evening, we were greeted with a marvelous set from Patti Smith after an extremely long but scenic drive there. Goddess of all things Punk, she opened with a magical rendition of Redondo Beach, from the one and only debut album, Horses. Playing with a smaller band including Patrick Wolf, her stripped back sound meant it was clear her vocal strength remained fully in tact. With her set consisting of songs across her entire career, including some particularly wonderful covers from John Lennon's 'Beautiful Boy', she had the audience completely enraptured right until her encore of 'People Have The Power', creating some big boots to fill for the acts to follow in the Far Out Stage.
Friday brought Peggy Sue to the Mountain Stage on what was a very sunny afternoon indeed. The band were instrumentally very tight, and there was a distinct progress from when I had seen them almost 18 months ago. While I have always been a big fan of their debut album 'Fossils and Other Phantoms', their set consisted mostly of 'Acrobats' and new material, which, hearing live, has definitely made me enjoy their shift in sound between the two albums more than I had previously. A particular highlight was their rendition of Charles' 'Hit The Road Jack'. With a loop pedal and one microphone, the pair demonstrated their profound ability to unify two very gorgeous voices into something spine-tinglingly wonderful, and I sincerely hope we will have a studio version of the cover available soon. Later that afternoon, we wondered over to the 'Talking Shop', to see the act it seems a lot of other people had also come along to see.
Caitlin Moran, 'the modern feminist' and author of both 'How to Be A Woman' as well as 'Moranthology' took to the stage for a modest hour, and still managed to blow everyone's minds. While some may accuse her of projecting some slightly flawed arguments, no one can deny that she is hilariously funny. With all sorts of strange anecdotes, including many mishaps involving a disloyal moon-cup and Benedict Cumberbatch's parents' white sofa, or Richard Curtis' newly decorated guest house, you can understand why we were somewhat awestruck upon listening to her.  She was an inspiration, to the point where she finished with a 'same-sex kiss' with a half-naked female member of the audience in protest of President Putin. That is not something you see every day, and for that very reason, she was a definite highlight of the whole weekend, and someone I would certainly try to hear talk again.
Having been on the festival wish list for years, Kings of Convenience finally took to the Mountain Stage as Friday's headline act. The pair, Erlend Øye and Eirik Glambek Bøe construct some of the most sublime vocal harmonies, and their instrumentals on 'Misread' definitely seemed to be a crowd pleaser. While they may not seem like an obvious headline type, they fitted the bill perfectly for Greenman, and served as a brilliant real opening of the Mountain Stage.
On Saturday, Einstein's little Garden Stage brought us The Ballina Whalers. Trio Sam, Pete and Jamie, sing traditional sea shanty songs that they've picked up and learnt from their various travels. Consequently, we were greeted with a vast array of genre and style, and using nothing more than their voices and the occasional input of a guitar, their performance was raw and real, and something we rarely get a chance to hear these days. Be sure to check out their particularly stunning cover of 'Adieu Sweet lovely Nancy'; I genuinely hope we get to witness them at next year's festival.
The legend that is Roy Harper also took to the Mountain Stage early Saturday evening. Having crafted some of the most ravishing music of the last 50 years, he was a very welcomed guest to the festival. Despite his tendency to ramble a little between songs, both his guitar and vocals have lost none of their sharpness. Bella Union will release his newest album 'Man and Myth' on the 23rd September, and from the snippets we heard, it's set to be another masterpiece. Finally, Band Of Horses were more like dark horses this year at Greenman. While they weren't the legitimate headliners, everyone was talking about Band of Horses for the duration of the weekend. They entertained and enraptured the audience, and their execution of 'The First Song' made them instantly feel naturally part of Greenman's atmosphere, contrasting them hugely to The Horrors to say the least.
Sunday morning was another sunny one, and instead of milling around waiting for the music to kick up again, we wandered down to the river where we intended to just dip our feet in and enjoy the scenery. However, once we got talking to some of the fellow festival-goers who swore it was one of the best things they had ever done, we found ourselves fully immersed and actually swimming in this beautiful but bloody freezing river. While some other festivals claim to have various lakes available to swim in, I have never come across such a clean, inviting and refreshing way to spend the morning. It was ridiculously brilliant, and no matter what the line-up next year, I genuinely think I would go back just to do that again.
We wandered back in time to catch the beginning of Fanfarlo's set at the Mountain Stage. Their music is gentle and easy to listen to, and their use of brass instruments including two saxophones and a trumpet makes these guys particularly great. Their on-stage chat did improve considerably through the duration of the set, to the point where Simon Balthazar admitted they had a swear jar, a cliché jar and a forgotten-lyrics jar, and he would have to put money in one of these. It remains a mystery as to which, so it can't have been that bad.
Over on the Walled Garden Stage was the lovely Marika Hackman. With morbid but curiously amusing lyrics, her voice accompanies her guitar in the most sublime fashion, and by the end of her set, the garden was packed with people watching. Having been making music for just under two years, and having already supported Marling on a full tour of Australia, I would not be the slightest bit surprised if we were to see her on the Mountain Stage in a few years time.
It seemed everyone was waiting for Johnny Flynn by this point, and his rare appearance in terms of live performances meant almost the whole festival went and sat over at the Mountain Stage. He played an interesting set, with a mixture of songs from both 'A Larum' and 'Been Listening', and it has to be one of the most confident performances I've ever seen him do. His new album 'Country Mile', set for release on the 30 September, certainly sounds like it's going to be a keeper.
Finally, the last headliner that everyone has been waiting for, was the one and only Ben Howard.  Brit-winning, platinum-selling; it was no surprise that he attracted the biggest crowd of the weekend by far. Playing every song from his debut album 'Every Kingdom', as well as material from his latest EP Burgh Island, Howard is an undeniably talented songwriter and guitarist. He played a track or two from the album he's about to record, and there was a distinct shift in tone to something heavier from what we've previously heard. Nonetheless, he was genuinely very good, and it was a privilege to see him for what he claimed to be "the last time for the next two years"(!). Whatever he is off to do, I have no doubt that he will come back with something even more phenomenal; for he has only just set out on what is going to be a very long and successful path.
I wish I could easily sum up Greenman, but it's appearing rather difficult to. There is such an incredibly vast array of music, and with 2013 being my fourth visit, there is not one aspect of this wondrous event I could fault. While the feedback from some was that "everything was too mellow", or (I still can't get over this one) "I wish I was at V Festival", you wouldn't come to a festival if you didn't know it's line up anyway. In other words, if you want to watch Beyoncé in a muddy mosh pit or have your tent set alight, then Greenman probably isn't for you. But if you like beautiful music, and beautiful people, and beautiful scenery, then I urge every one of you to invest in a ticket next year. The Greenman is a most welcoming chap; roll on 2014.