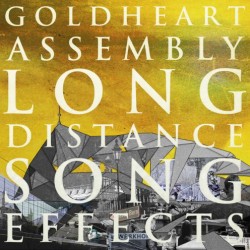 Okay, let's get this out of the way straight off the bat: this is not a folk album, and I'm not quite sure why it's been sent our way. I'm delighted it has, though, as it is a worthy follow-up to the under-rated Goldheart Assembly's 2010 debut album Wolves and Thieves.
The mysterious introductory title track is a 'Reminder' that the seemingly conventional indie quintet can at times take surprising turns, while the next two tracks – the harsh, clanging 'Billy in the Lowground' and the beautiful piano-led 'Harvest in the Snow', a former download single – could scarcely be more contrasting.
The coda on the latter kicks straight into 'Transit', the third four-minute-plus song in succession, which helps Goldheart achieve an unusual and desirable effect – the feeling that the album has been on longer than is actually the case, but without in any way dragging on. And then just for good measure they slide into the lead-off single proper, 'Stephanie and the Ferris Wheel', a thing of understated beauty with a soaring, string-laden climax.
The second half of the album bears more resemblance to Wolves and Thieves, with the anthemic 'Sad Sad Stage' and 'The Idiot' followed by possibly the album's stand-out track, the catchy, rocky 'Into Desperate Arms'.
My one quibble would be with the inclusion of a hidden track as the last 'proper' song, the haunting 'Bird on a Chain', flames out in a crashing, rumbling storm of drama which should be allowed to provide the album's finale. Otherwise, though, the album further establishes Goldheart Assembly as a rising force.
Tom White
Long Distance Song Effects is out now. Listen to 'Harvest in the Snow' for a taste of the full effect: