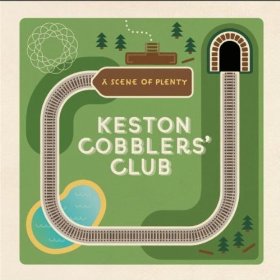 It is said that many years ago in the village of Keston, in the London Borough of Bromley, the local cobbler would spend the evenings playing his fiddle to the raucous village rabble. The music he played was so foot-stomping that the patrons of the public house would wear down the soles of their shoes, and so the cobbler never went out of work. It is this story in which the ethos of Keston Cobblers' Club is rooted. The brother-and-sister duo Matthew and Julia Lowe joined with their Keston school friends to reform and revive this fantastic tradition.
Their new EP A Scene of Plenty presents such musical mastery and foot-stomping fun that it is a wonder the band aren't headlining any festivals this summer. Their sound has all the fabulous banjo plucking of the Mumford boys combined with the accordion and brass experimentation of Beirut, the male and female harmonies of SONAA, topped off with twinkling percussion.
The first song of the EP 'The Children Who Wear Socks on their Heads' comes across as a bizarre anthem, the strong group vocal chiming out "we are the kids with the socks on heads, leaving our mark on the world we tread". While this lyric seems nonsensical it is easy to imagine, with the passion and the enthusiasm that the band conveys, audiences of thousands shouting this mantra along with the singers, fingers raised to the sky in euphoric festival bliss.
Both former FFS Song of the Day 'Beam' and 'A Scene of Plenty' are wonderful summery tracks, simple guitar riffs accompanied by shakingly rhythmic percussion and lovely harmonies producing a memorable and catchy sound. 'A Scene of Plenty' is particularly reminiscent of an early Emmy the Great, with dancing banjos and a male vocal to give a full bodied and exciting sound. The final track 'The Castle' is a more sombre love song, showing that the band have emotional depth as well as instrumental talent. The lyrics are charming and emotive: "I will spoil you every day and build that castle in your name."
This EP really is, just as the name suggests, a scene of plenty. Keston Cobblers' Club are one of the most exciting up-and-coming bands around: a real gem, with such a complex array of sounds and instruments, from a variety of collaborations. They embody the DIY ethos of contemporary folk music that makes the genre so appealing and fascinating. Keston Cobblers' Club are a fantastic find and are set for great things in the future.
Words by: Amelia Steele