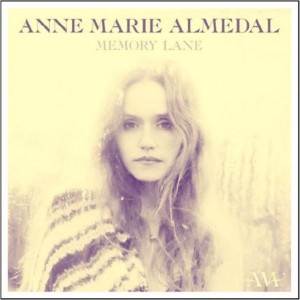 Anne Marie Almedal's Memory Lane is stunning from start to finish. For those of you who love nothing more than listening to folk at its most rustic and quaint, then look no further than this record. Blending the sounds of British folk and her homeland of Norway, it is really an album for the folk traditionalists. Drafting in the likes of legendary Danny Thompson (Pentangle, Nick Drake, John Martyn, Kate Bush) and John Wood (the man who brought us Drake's Pink Moon and Martyn's Solid Air), it is no wonder Memory Lane is as good as it is.
There is an extremely long list of redeeming qualities to attribute this album with, but definitely at the top of that list is Almedal's voice. A voice so beautiful it could drive even the hardest person to tears. Her vocals soar effortlessly over the equally gorgeous accompanying music and manage to fill the listener with a warming sense of optimism.
There are many highlights on Memory Lane, but my personal favourites would have to be the exquisite opener 'Back To Where It Started'. Pureness personified, the blend of flute and guitar is reminiscent of Pentangle, which is certainly a good thing! Other highlights include the haunting delight of 'Scars' and the striking title-track, 'Memory Lane' which showcases Anne Marie Almedal's voice at its best.
I think I've run out of adjectives to describe this record, but I do urge you all to go and listen to this masterpiece of an album by a woman who is at the top of her game.
Words: Carly Goodman