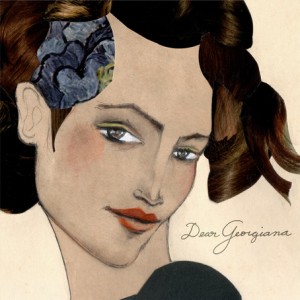 Not enough people know this, but the Bandana Splits' eponymous debut is the most exuberant record of the last five years and the best slice of upbeat comic-book girl-band retro-pop this side of 1962.
Alabama-born Lauren Balthrop, one third of the Splits, adopts the alias Dear Georgiana and a more contemporary sound for her solo debut, stripping away all traces of kitsch or parody to deliver a record of such assured brilliance that after one listen I had to stop myself opening the window and shouting at passersby that they had to go and buy a copy immediately.
Balthrop shares with her more high-profile band-mate Dawn Landes an almost casual talent for memorable hooks, though clearly leans more towards the pop end of the spectrum. These songs sound both modern and like they could have been recorded at any time in the past 50 years. Her voice is rich and sweetly emotive, not unlike the equally fantastic Spanish singer-songwriter Russian Red. The soaring choruses should have mainstream A-listers grinding their teeth in envy.
This is an album to fall in love with and to; the kind of album people say they don't make anymore. It's fun and catchy and hip: every track perfectly formed. Opener 'Don't Let Me Go' layers acoustic guitar, stark drums and an echo-drenched vocal that brings to mind John Lennon during his early, ethereal solo years. It's followed by the gloriously McCartneyesque 'Young Girl', all pounding piano, jangling guitars and driving bassline. The album then continues to flit, effortlessly, between styles and genres – soul on 'Over You', power-pop on 'Please Don't Tell Me a Lie', even nursery-rhyme on 'Nowhere to Be' – yet never loses its own unique identity, bolstered by idiosyncratic lyrics that range from affairs of the heart to, it seems, the apocalypse.
And it's all delivered with such wit, poise and confidence. Breezing past in little over thirty minutes, it's as uplifting and invigorating as a kiss from a new lover. By the stripped down, country-inflected final track 'Let's Dance' I was on the floor, feet bare, my socks blown clean off.
Words: James Robinson