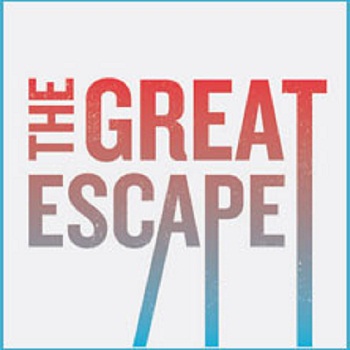 We parachute into Brighton on Thursday evening, landing in the middle of the Komedia Studio bar for our favourite avant-garde Norwegian, Jenny Hval. She wows us with her utterly unique brand of experimental, part-spoken-word, musical musings on bodies, cities and sex, drawing on sounds as diverse as rock, electro and folk. A heady, beguiling, disorientating experience, and we love it.
Less 'out-there' but just as compelling are the Belgian Balthazar, who we find up some creaky stairs in The Prince Albert playing to a room so tightly-packed we fear we might fall straight through the floor and onto some unsuspecting Brightonians, just trying to have a quiet pint in their local.
The quintet treat us to a selection of tracks from their latest record Rats, as well as their debut, with Martin Devoldere delivering an accented, Dylanesque drawl over Patricia Vanneste's keys and violin strings. Knowing what the second day of the festival will bring, we head home to bed – via a late-night eatery – and ready ourselves for a folktastic Friday.
Day Two begins with beer and Bloody Marys for breakfast followed by Laura St. Jude at the Festival Hub. Probably better suited to a smoky, back-street drinking den at 2am, she nevertheless manages to conjure up an atmosphere in this noisy, bright, outdoor space. Quietly enigmatic, her seductive, 60's influenced, Goth-folk coils around the crowd, insinuates itself between drinkers in deckchairs and hushes the chatter. Putting us in mind of a young Petra Jean Phillipson, this 20-year old Glaswegian is a blood diamond waiting to be discovered. One of our new favourite artists.
Slightly more upbeat but no less atmospheric is the flame-haired Fletcher, playing the very 'Am Drams' Brighthelm Centre, which has all the ambience of a village hall. We're delighted to discover he's  being accompanied by non-other than Emma Gatrill on harp, and the two create a very charming sound. Despite feeling that Christopher Biggins may at any point erupt on to the stage shouting, 'He's behind you!' Fletcher makes a good crack of showcasing his accessible, melody-driven folk and new album,  Upon Ayr.
We then traverse the length of Brighton to reach the brilliantly named Sticky Mike's Frog Bar and stake our spots for Story Books. This means catching most of Tripwires, who aren't folk, but don't make a bad stab at channelling Sonic Youth. They're a pleasant aperitif to Story Books, the indie-folk outfit we championed back in March 2012, and whose star is rising with a sweeeeet spot supporting the Rolling Stones in Hyde Park on the 6th July. Wowzers.  Highlights of the set are the hook-laden, first single 'All Those Arrows' and  exquisite 'Peregrine', which draws out the rich, complex nature of Kristofer Harris's vocal. A talented bunch of lads to be sure.
From tortured shoegazing to saccharine folk-pop, we arrive at The Warren in time for Nina Nesbitt, a bushy haired young whippersnapper from Scotland with some impressive industry backing behind her. Singing about teenage, you know, stuff, it won't plough the furrows of your soul but is a twinkly, innocent interlude before the whiskey-sodden, fag ash-drenched disgrace that is Houndmouth. And yes, we mean all that in a good way.
It's 1am but feels much later, and the contrast to Nesbitt is akin to someone pouring whiskey in your milkshake – and Houndmouth, by their own admission, have had far too many milkshakes this evening. It's therefore something of a surprise when the Kentucky troupe go on to thoroughly rock the joint. This could be because everyone else is plastered, but actually the sound is pretty tight – the country-inspired harmonies are spot on, the riffs bluesy and brazen, and there's enough twang to transport us to a spit and sawdust bar in the American deep south. It's a blinding way to finish Friday night.
We're not going to lie – Saturday morning is a struggle, but after consuming a breakfast as big as our heads, FFS is back in the game and ready for more gothic, theatrical folk, in the form of enigmatic Geordie, Nadine Shah. With the funereal, piano-led waltz of 'Dreary Town', we're reminded of Soap and Skin. Shah's voice itself defies comparison – a husky, half-operatic, deep warble, it's gets into your bones. Strikingly original, this is one of the golden moments of this year's festival.
Feeling slightly better and ready for our first beer of the day, we head over to Komedia for Finnish trio, Husky Rescue, who combine very old and cutting edge techniques to create a unique, electronic, experimental sound. Folk influences come from the Swedish nyckelharpe the band sometimes draws sounds from, as well as percussive instruments and singer Johanna's soft, ethereal vocal. With a very well-received album just behind them, it's no surprise that the queue is half way round the block.
As the last note dies away, we rush downstairs to catch London-based vocalist and producer Lyla Foy, otherwise known as WALL. Commenting on how quiet and attentive the audience is, she plays us tracks from her Shoestring EP. With her hushed tones and gorgeous synth-folk, it's hard not to be totally mesmerized.
In the midst of a game of upstairs/downstairs, we head back to street level to find Norway's Highasakite setting up… complete with zither. Their debut album, All That Floats Will Rain, was released in their homeland last year, and their EP, In and Out of Weeks, internationally this March.  The five-piece are currently working on their next full-length offering, which – if their performance here is anything to go by – will be a sweeping folk-pop soundscape, blended with shimmering synths, jazzy percussion, and chiming vocals lead by Ingrid Håvik.
Underground once more, and breaking our Saturday's run of female vocalists, we find Luke Sital-Singh, delivering a healthy dose of heartbroken, man-folk to the assembled crowd. We then leave the clutches of the Komedia and make good use of the mid-afternoon break to rest (sit outside a pub) and refuel (sink a couple of beers), but stay close to the open air of The Festival Hub.  Here we find yet another talented Norwegian, London-based artist Kari Jahnsen – AKA Farao.  Performing under an overcast sky, she manages to coax the sun out from behind the clouds, joining the crowd below, bewitched by the atmospheric, experimental-folk and a wealth of beautiful harmonies, which will feature on her debut EP (recorded with Tunng's Mike Lindsay) due for release later this year.
Then it's over to Audio where we finish up this year's TGE Folk Odyssey with two quite different acts.  France's energetic and anthemic five-piece, Concrete Knives, have us moving our feet in an appropriate fashion to tracks from their debut album Be Your Own King… and an unexpectedly fantastic cover of Ini Kamoze's 'Here Comes the Hotstepper'.
Last, but by no means least, we have the lovely Dan Croll; a young man currently making waves with tracks like 'Compliment Your Soul' and 'From Nowhere', whose electro tendencies are delivered with one toe firmly dipped in folk sensibility.
By this point you'd think we'd be gigged, boozed and tired out, but as we stagger off into the last night of East Sussex's SXSW, and one of our favourite weekends of the year, we wish we could do it all again tomorrow. For now, we can at least say: we came, we saw, we folked.
words: Puja Maniar and Theresa Heath