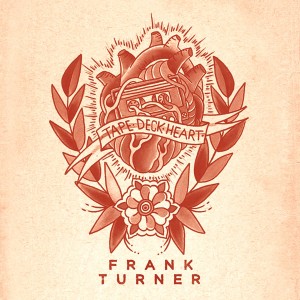 Frank Turner's new album starts in the same place as his first one: a stranger's house. This time he's "Blacking in and out in a strange flat in east London… a long way back to the light", not far from that "sofa in an unfamiliar house" on which he awakes at the start of his first solo record, 2007's Sleep is For the Week.
No one describes better than Frank Turner what it's like to be hungover and walking home in the clear, solipsistic morning light. On previous albums Turner has seemed guilty of glorifying loneliness, of making this kind of melancholy feel bitter-sweet, even noble: the troubadour, the cowboy, the Dylanesque libertine. Not on this one. Tape Deck Heart is a breakup record. Rarely bitter-sweet, sometimes bitter, but mostly, at first, just burnt out.
As Frank Turner albums go, this is more of a pop record, with a strong sweep of punk rock in the middle (on single 'Four Simple Words') and the odd shading of folk. Early fans hoping for something stripped down and acoustic will be disappointed; earlier fans hoping for another hardcore record – a la Million Dead – will be distraught. Neither, however, will be surprised: Frank Turner's trajectory towards pop music –
and towards increasing commercial viability – is well known. The thing that might surprise some is how good he still is at making music. And he's not good despite making another pop record, but because he's made another pop record.
Pop music suits the publicness of Tape Deck Heart. It suits Turner's need to absolve his feelings into the crowd. It suits Turner's desire to chronicle without commemorating. Listen to 'Polaroid Picture', whose chorus has the spring of an advertising jingle but whose verses chronicle the closure of the Estoria venue in London and, dysphemistically, the building of the HS2 railway line: "And now they're building a railway / to take the vanquished to Versailles". Folk music tends to eulogise. Hardcore tends to rage. Perhaps only pop can give these historical moments the carpe-diem feel that Turner wants.
"Well of course I've changed," he sings on 'Tell Tale Signs'. "With all the things that I've done and the places I've been, I'd be a machine if I had stayed the same." And that's the interesting thing about Frank Turner. His career has been one of constant evolution. But, back on that sofa in a stranger's flat, in some ways you wonder if he'll ever change at all.
Words: Tom Moyser