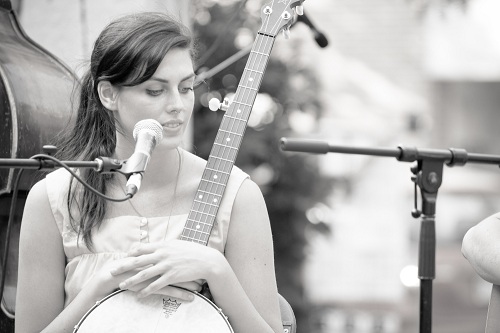 Anna Scouten is a young and extremely talented singer-songwriter from Canada.  A mesmerising performer with a beautiful voice, she has steadily built up a strong following on YouTube and, if the songs recorded in her bedroom are anything to go by, the self-titled debut EP, out tomorrow, is sure to be a stunner. .
We first stumbled across you on YouTube. Why did you initially decide to upload videos to the site?
In high school I took music lessons and after one of our performances a parent of another student suggested I put videos up on YouTube. It was just for fun, I didn't think it would lead anywhere, but it's brought me to some pretty awesome contacts and experiences.
Those videos are so immersive because you look into the camera and just sing and play the guitar. Was this a conscious decision to let the music speak for itself?
It was definitely not a conscious decision, I think I just hadn't watched too many YouTube covers before I put mine up so I wasn't really sure what the protocol was! I'm pretty shy about performing live and it's a really strange experience singing to yourself on a screen so instead I would have the lyrics on the screen for something to look at, hence the staring. I never noticed it until people started pointing it out but now I've noticed that's how I perform live – I guess that's just what I need to do in order to feel comfortable.
Can you tell us a bit about the process of making the EP? 
Yes, I'm so excited about the EP! We recorded at Greenhouse Studios and Fiend Recordings in Vancouver. The producer (Digory Smallz) lives in Vancouver, so I could only record when I was home visiting my family over the summer. We only had 3 days to assemble a team, work out the songs and record them so we weren't going for perfection and there are some great quirks. It was weird to get used to having my voice always in my ear or playing along to a metronome but I eventually got the hang of it.
You collaborated with Joshua Hyslop on the song 'What Have I Done'? Will any collaborations feature on the EP?
Joshua Hyslop sings a little bit on one of the songs on the EP. He's a long-time friend of the producer and so he hung around the studio to help with the music and also to give me some solid advice about the music business! There are also some other musicians on the EP – Joe Goering is on cello, Sam Hurd is on the drums, Eugene Chan doing some banjo and Digory Smallz on lap steel guitar. Lotsa good stuff!
You also collaborated with your sister Sarah Jane Scouten on her album Magpie Waltz. Did you grow up in a musical family?
Extremely musical. My dad is a banjo and guitar player and all-round music enthusiast. We had lots of musical instruments laying around the house and were always going to music parties with our parents and their friends. Music was a really big part of growing up and it was a pretty natural process that my sister, brother and I all became musicians.
What music inspired you to become a musician yourself?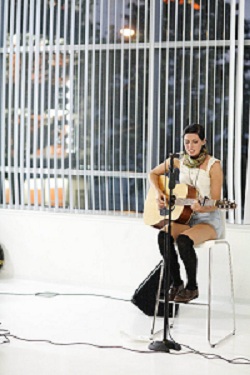 Initially it was bluegrass because that's what I heard the most around my house; I have a strong love for that music still, but I wouldn't say it's what inspires me anymore. It got me to pick up an instrument but now I am really musically inspired by live music.  I'm really interested in people too. I'm a Psychology major so I spend a lot of my time thinking about people's behaviour and cognitions  when I write. If there's anything I've learned in my studies it's that people are extremely similar and so the fact that we see the world so different is really fascinating
Are there any contemporary musicians you'd like to recommend to us at FFS?
Most of the contemporary musicians I listen to are from the UK, like Ben Howard and Laura Marling. I really love them. I would recommend Land of Talk, and Plants and Animals, they're probably two of my favourite bands right now.
What's next for you? 
I'm currently in University so I only play a show here and there, but I do play around Montreal every so often. As for videos, there is a new one out filmed by my friend Max Taeuschel with a good pal of mine – Sierra Lauren. A beautiful song she wrote that I sing on called 'Wendy's Song.'
Lastly, when can we hope to see you in the UK?
Oh man, I hope soon! I would love to do a UK tour, that would be a dream. I graduate in 2014 and after that I fully intend on focusing all my energy into music so hopefully sometime after that I will make my way to the UK!
words: Scout Stuart
For gig dates and EP, check out Anna's website