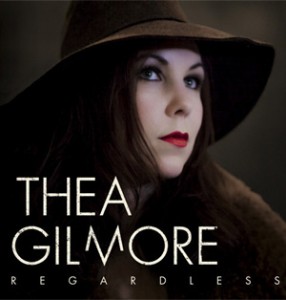 Thea Gilmore's return, following the birth of her second child, brings with it a 14th studio album in as many years which finds her on top of her game.
Gilmore herself admits the time she took away from music helped refresh her approach to making music, resulting in a more confident sound, and this is certainly evident throughout. Gilmore's voice is augmented by some forceful rocky arrangements, notably on 'Start As We Mean To Go On' and opener 'Something To Sing About' – while the former is oddly positioned in the middle of the record, the first track does pledge to "raise some eyebrows, raise some hell". 'Let It Be Known' is also indicative of an artist unafraid to speak her mind.
There are tender moments too though, with the title track standing out along with the soaring 'Punctuation' and 'My Friend Goodbye', which wraps up the album in gorgeous, heart-rending fashion – a ballad of letting go, but shot through with love and hope as Gilmore sings: "Some things we'll always know/Hearts and distances grow/ Just give me enough rope/ And I'll still hang on to hope".
The dominant presence of strings among the instrumentation owes much to Gilmore's most recent project 'Don't Stop Singing', on which she served as an interpreter for the unused lyrics of the late Sandy Denny and found that an expansive string-laden sound suited not only those songs but also her voice, never more evident here than on 'This Is How You Find The Way'.
Lead single 'Love Came Looking For Me' carries obvious lyrical echoes of Everything But The Girl's classic 'Didn't Know I Was Looking For Love', though the almost disco-tinged chorus surprisingly moves it closer in tone to Karen Ramirez's 1998 cover. A further surprise is in store with 'Spit And Shine', its abrasive beat underpinning an aggressively patriotic song. The theme of place recurs throughout the album, as Gilmore sings "Speak to me of California, speak to me of Wigan Pier" on 'Something to Sing About' and stresses that her feelings on 'My Friend Goodbye' encompass: "Wherever you are, from Dubai to Des Moines".
A beautiful album – lyrically, musically and, of course, vocally – Regardless is a worthy addition to Gilmore's already impressive catalogue.
Words: Tom White