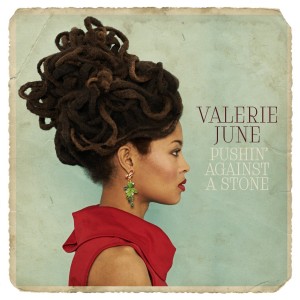 The town of Jackson, Tennessee sits just a little west of the midway point on a long stretch of Interstate 40 which goes by the name of the Music Highway. It is where Carl Perkins came of age, and it is home to the International Rockabilly Hall of Fame, which – despite a rather grand name – looks just as ramshackle as you'd hope something celebrating rockabilly would. And Jackson is also where a young Valerie June grew up.
For any budding musician, Jackson is a literal crossroads. Head east for the glam, glitter and land of opportunity represented by Nashville. Head west, and you'll come to Memphis, that great melting pot on the Mississippi where the blues, gospel, country, jazz, soul and rock 'n' roll have come together over the years.
At the age of 19, Valerie June went west. After splitting from her husband, with whom she played in the group Bella Sun, June began to carve out her own identity, and one that draws on the best of everything Memphis has to offer. The result is her debut album proper, Pushin' Against A Stone, which acts like some kind of musical history tour of this great city.
Opener 'Workin' Woman Blues' is one of the finest songs you'll hear on any record released this year. This beautifully picked blues song draws heavily on the classics but is not dated for a moment. June continues her exploration of American roots with a set that flips between the classic country of 'Tennessee Time', the gospel sound of 'Somebody To Love' and the traditional blues of the title track.
There are the ghosts of the Carter Family in 'Trials, Troubles, Tribulations', there's something moving about the gospel-inflected 'The Hour', while the country-blues of closer 'On My Way' is just plain delicious. While June takes time to show she is highly proficient in all of these styles, she is at her best when she combines them. If 'Workin' Woman Blues' sets the bar ludicrously high, 'You Can't Be Told' meets it head on with its infectious mix of soul and funk. It's just another stand-out cut on a fine debut album.