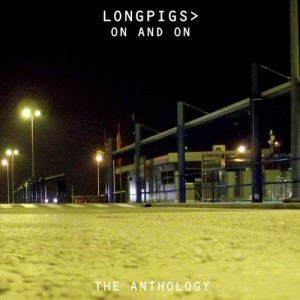 As Suede become the latest Britpop band to hit the road on the reunion trail – sporting, it should be said, a creditable comeback album – it is slowly dawning on those of us who were there to enjoy the movement first hand that it all began almost 20 years ago. Since then, a whole host of bands – many more deserving than others and several far less so – have enjoyed revivals, retrospectives and, where required, resuscitations.
Some were more laughable than others (see Cast – The Collection), but one band until now deprived of a second moment in the sun have been the Longpigs. The merits of an anthology for a band who produced just the two albums can be debated for longer than it takes to listen to their entire back catalogue and before we go any further with this review, let me say that I'd advise any listeners new to the band to bypass this collection and just buy the albums – only the dedicated will need the array of b-sides and live cuts that make up the second disc.
But that said, we heartily welcome the release of On And On: The Anthology, if for no other reason than the band deserve it. Their short, troubled lifespan too quickly consigned them to history, and as a result hid them away from future generations of fans. But for a small group of us, particularly those growing up close to their Sheffield base, the Longpigs were a significant cut above most of what passed for the anthemic in the mid-to-late 1990s.
Their debut album The Sun Is Often Out was a kind of grunge for geeks – thrash indie too cool to care if everything quite hung together. Just across the city, Jarvis Cocker was busy crafting pop songs for the awkward kids in the playground while the Longpigs were knocking out something tougher, edgier, but written for those same troubled souls.
Perhaps it was something about Sheffield, but that same sinister edge permeates through the Longpigs' lyrics, but where Jarvis celebrated the freaks, the Longpigs fought back. Their lyrics were confrontational, furious rather than fun, and full of the scars of battle. 'Lost Myself' sinks into despair, 'She Said' wallows in self-loathing, while 'Jesus Christ' moves swiftly from love to lust to out-and-out lechery.
On first listen, 'On And On' might come across as one of the most beautiful love songs you ever heard, but underneath something ominous lurks. This is a love too strong, a dangerous passion that will ultimately undo the one who carries it.
It perhaps goes hand-in-hand with a debut album so intense that the Longpigs were a troubled band from the off. A dangerous concoction of drink and drugs accompanied their tours, and things quickly spiralled south, particularly in the case of frontman and songwriter Crispin Hunt. It was against this backdrop that sophomore album Mobile Home limped out, a confused, drifting record barely worthy of comparison to its predecessor. Its name was taken from what seemed like a never-ending tour schedule that sealed the band's fate.
But despite all that was wrong with it, the album is far from a write-off. Lead single 'Blue Skies' was one of their finest works. 'The Frank Sonata' revealed a smoother side, and stylistic experiments suggested that whatever combination of substances was in their systems, it was only enhancing their desire to explore. Perhaps if they'd stuck together, they'd have brought all these ideas together on a future record – if only they'd been functional enough as a band to all pull in the same direction. We'll never know, as they imploded soon afterwards.
Their troubled story has had a happy ending. Hunt has recovered enough to revive his musical career as an accomplished producer and song-writer (writing credits include this diverse bunch from Jake Bugg, Florence & The Machine, and even Natalie Imbruglia), while few of us could have guessed from listening to the Longpigs the majesty of the records their lead guitarist – one Richard Hawley – would go on to create as a solo crooner (yes, that really is him a-snarlin' and a-moshin' on that 'She Said' TOTP clip above).
I recently saw Hawley on a documentary discussing his love of old 45s from the 1950s and 1960s. Those two-minute pop songs always leave you wanting more, he said, and so does the two-album lifespan of this briefly glorious band. A flame that burned just a little too brightly to last, it's a joy to bask in its light once more.