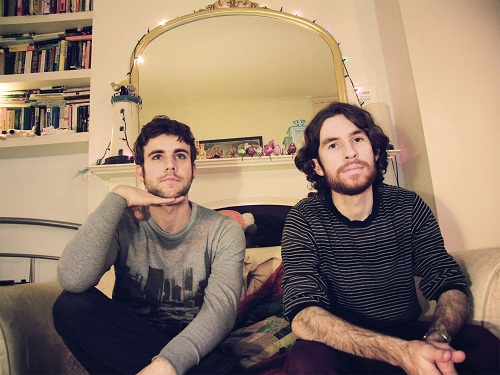 Strictly speaking, we've already introduced Hoshal Patrick, the delightfully dreamy duo with the air of a very chilled-out Smiths about them – check out the very favourable reviews from our New Bands Panel. Find out a bit more about the boys here, including their plans for a dubfolk revolution and what they'd do with a billion pounds. We're assuming the comment about Amazon's Listmania is ironic…
Hello, please introduce yourself and your music to the uninitiated.
Hello, we are James and Alex, also known as Hoshal Patrick. We write, record and perform eccentric & melodic songs together and have been working on bits and bobs since about 2007. We were once described as "mind bending avant-pop" which we think fits quite well.
Tell us a bit about your latest release?
Our self-titled debut EP was released last December by our friends at The Association for Depth Sound Recordings. We have worked on and shared demos for years and our writing and production got at least good enough for us to put a formal collection together that we could happily listen back to. It includes a song about a bird flying through space, a love song, a humanist anthem of sorts, and more!
What was your best ever gig?
J: Perhaps our EP launch which featured impromptu East 17 and Mariah Carey tributes. We shared the bill with good friends Victoria and Jacob and were supported by Olly the Octopus.
A: I supported Biffy Clyro in an old band whilst on my art foundation course…we were terrible.
What's the worst thing about being a musician?
J: The embarrassing displays of affection from all our fans when we walk down Holloway Road. The days of quietly popping out for a bacon roll are sadly distant.
A: Playing all those blasted notes.
What inspires you?
J: Original & interesting music. Currently listening to James Blake, John Grant & Kendrick Lamar. Plus a load of stuff which would make me look pretentious if I listed it.
A: Little bunny rabbits with one lop-sided ear and one straight up in the air.
If you won a billion pounds what would you do with it?
J: Have North London's answer to Paisley Park constructed somewhere nearby.
A: Buy 100,000,000,000 penny chews.
Which of your songs is your favourite and why?
J: In general, my favourites are usually those we're still working on or have just finished as they'll be the ones with most momentum. My favourites from our EP are 'Love's Sake' and 'Pianio'.
A: There's this really, really good one that I haven't written yet.
What are you plans for the future?
J: We're currently practising with a full band and we have a lot of new songs to polish, record and perform.
A: Dub-folk.
Finally, we're always looking to expand our musical horizons. Do you have any recommendations of bands or artists we should be looking out for?
We recommend Amazon's 'Listmania' for expanding your musical horizons but do go and listen to our friends Victoria and Jacob and We Yes You No and our label mates Uther Moads and Antidröm.
Listen to the whole darn EP here: