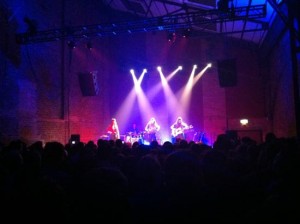 That The Staves' two-day residency at London's Scala coincides with a brief heat wave in the capital may be no coincidence: more warmth radiates from the audience to the stage and back again over the course of their set than is generated by an entire British summer. For the Watford-born Staveley-Taylor sisters, this is as close as they have been to hometown gig for some time and they are welcomed like conquering heroes. The success of debut album Dead & Born & Grown, which forms the bulk of the set, has brought them back as headliners to a 1,000-capacity venue they have played before as a support act and every single member of a sold-out crowd is in reverent mood.
Opening up with 'Gone Tomorrow' and sliding into 'Icarus', one of the few non-album tracks that makes it into the set, it is immediately and thrillingly clear exactly how good they are. Of course the harmonies are perfect and there isn't a note out of place all night. Even mentioning it seems almost disrespectful by implying the possibility that could not have been the case. Perhaps what's most impressive though is the way every song is lived and felt. When Camilla sings "I don't think that I can do this anymore" in 'Facing West', 1,000 hearts break.
Album opener 'Wisely & Slow', with the girls gathered round a single microphone, is a highlight, building from the perfect stillness of the a capella beginning to the closest thing The Staves get to rocking out, belting out the words "brother, you will never know" in something close to a frenzy. "We don't have a brother," Jessica says dryly afterwards. Elsewhere, loveliness abounds, from the delicate 'Mexico' to a couple of new tracks which are greeted like old favourites. This should be no surprise, of course, given that in 'Pay Us No Mind' Emily turns the phrase "I don't give a fuck" into a thing of beauty.
Towards the end, Camilla haltingly reveals how much it means to the sisters to be back in their own right at a venue they've previously played only as part of the undercard. Perhaps appalled that they might think they are in some way unworthy of this, a man in the crowd spontaneously calls out "let's hear it for The Staves everybody!" and the audience create an extended crescendo of appreciation which goes on slightly longer than is strictly necessary. Afterwards, band and audience alike shuffle around smiling dumbly at the sheer loveliness of the moment.
There's something to be said for artists who experiment with songs in a live setting, breathing new life into the material and keeping both all concerned on their toes. But when a band can capture the essence of a song and recreate it with such heart and precision that it feels like it might be the first, last or best gig they ever play, why bother changing a thing? It can't be beaten.